Melish's Epic Map of the State - Updated by William Morris
"Map of Pennsylvania, Constructed from the County Surveys Authorized by the State; and Other Original Documents, Revised and Improved...", Barnes, R. L.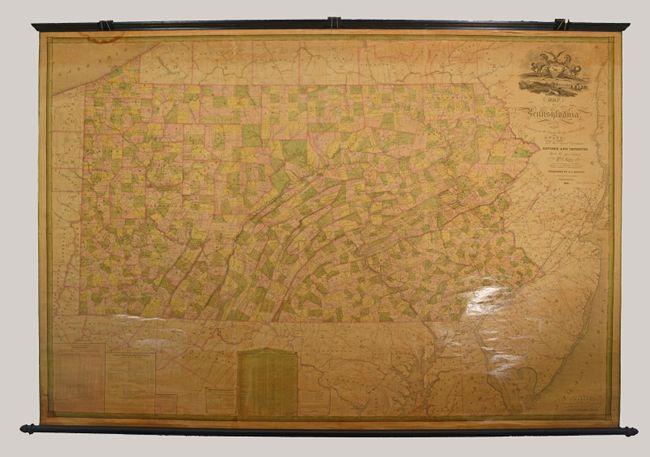 Subject: Pennsylvania
Period: 1850 (dated)
Publication:
Color: Hand Color
Size:
74.6 x 50.4 inches
189.5 x 128 cm
This extraordinary wall map is an update to John Melish's seminal map of the state from 1822, updated here by William Morris and published in Philadelphia by R.L. Barnes.

Melish was a strong believer in state-financed cartography, asserting that individuals would not have the necessary resources or finances to properly maintain state maps and that the government bore this important responsibility. His comments were transmitted to influential legislators in Pennsylvania, who passed an act in 1816 "Directing the Formation of a Map of Pennsylvania" and subsequently hired Melish to publish the map. The surveyor general contracted with deputy surveyors to provide accurate maps of each county, which were then collected and sent to Melish for compilation into the state map. The map was finally ready for publication in 1822 after Melish and his assistants spent six years compiling the map, and Tanner spent another fifteen months engraving the plates. The map was printed on six sheets, colored, available in several formats and mountings, and ranged in price from $9.00 to $12.50. Subsequent editions of the map were issued in 1824, 1826 and 1832.

With the Pennsylvania economy booming in the 1830s and 40s due to the mining of coal deposits, there was a need for this important map to be updated. So much like Melsih, Morris and engraver Edwin Yeager used all available sources at the county level to update the map. The result was a highly detailed map of the state emphasizing its recent economic growth, population growth, and internal improvements. Within the map, counties and townships are delineated while roads, mileages, railroads, proposed railroads, and canals are all located. Like the original, it extends to include eastern Ohio, southern New York, New Jersey, Delaware, Maryland and Washington, D.C., but with little detail in these areas. Enhancing the map are statistical tables. At lower left a table shows the coal supply, a measure of economic output, increase from 365 tons in 1820 to a staggering 3 million tons in 1847. Another table details internal improvements made in the state in 1844 worth $28 million, and an elaborate statistical table at bottom center shows assessed property value at $463 million as of 1848. All these facts together clearly presented the state as an economic powerhouse and no doubt influenced future settlement and investment in the state. Completing the map is a decorative title cartouche featuring the Pennsylvania coat of arms. This is the third edition of Morris' map, which was first issued in 1848.
References: cf. Ristow (Amer M&M) pp.110-115.
Condition: B+
The map has been professionally cleaned and restored with minor foxing and dampstains at upper left and bottom left corner. There is a 4" and 1.5" tear adjacent to the top border in the image as well as several additional cracks and tears confined to the top blank margin. Original linen has been reinforced and repaired. Original rollers have been remounted, and green edge ribbon has been added at left and right.