Christmas Map Combining Santa and the American West, Commissioned by Philip Cole
"Phil Jr., Jane & Kay Jr. Have an Idea About Our United States of Happiness at Christmas Time...",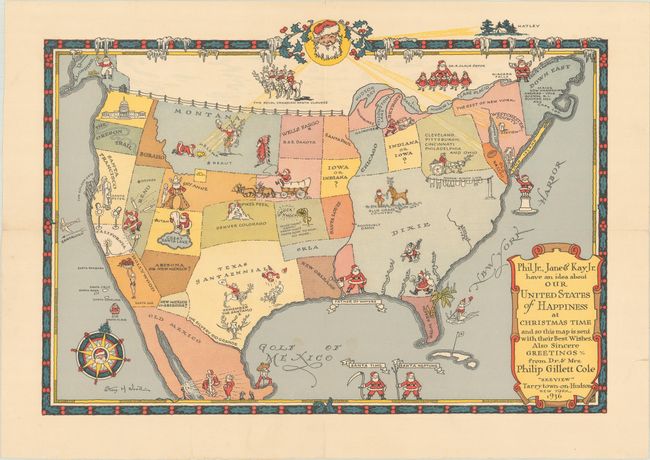 Subject: United States
Period: 1936 (dated)
Publication:
Color: Printed Color
Size:
13.9 x 9.8 inches
35.3 x 24.9 cm
This charming pictorial map of the United States was commissioned by Dr. & Mrs Philip Gillett Cole to be sent to friends and family as a Christmas greeting. Although whimsical in nature, with jovial Santas scattered throughout, this map also serves as a biography of Dr. Philip Cole and his family. Born in Illinois in 1883, Philip Cole moved to Montana as a young boy where he spent his formative years and developed a deep love for Montana and the West. His family moved to New York around 1900 and his father invested in a small company founded by George Schrader, who invented the bicycle tire valve, which was later adapted for the automobile and generated a great amount of wealth for the Cole's during the automobile boom. This fortune would later support Cole's collection of art of the American West, an homage to his beloved Montana.

After graduating from Princeton, Cole earned his medical degree from Columbia University in 1906 and eventually made his way back to Helena, Montana, where he built a medical practice. He served in France during the war, and at the end of the war he returned to Helena and married Katherine Pyle. Around that time he was given the opportunity to take the helm of A. Schrader & Son Inc., which by then was owned by his father. Philip Cole decided to leave the medical field and move back to New York to become President of his father's business. In 1928, he bought a 20-acre estate in Tarrytown, New York overlooking the Tappan Zee, a natural widening of the Hudson River. He named his estate "Zeeview" and began curating a massive collection of paintings and sculptures representing the West, creating his own private museum. He regularly commissioned art for his collection from artists such as Charles Russell and O.C. Seltzer. After Philip Cole's death in 1941, the estate sold the vast collection to Gilcrease Museum in Oklahoma.

Although this map has a clear Santa theme, it also highlights places of importance to the Cole family. A Santa-faced moon looms over the map, shining moonbeams onto the three most important places in Philip Cole's life: Helena, Montana; his Zeeview estate along the Hudson River; and the home of his Alma mater, Princeton (with the state of New Jersey simply labeled "Old Nassau," the school's song). The remainder of the United States is given less importance, with most states combined, transposed, misnamed, or altogether omitted. The US Capitol building is shown in the state of Washington, instead of D.C. Many of the place names on the map follow the Santa theme, such as "Santa Francisco," "Santa Paul," "Santa Louis," and "Santalulu." Texas is named "Texas Santaennial," a nod to the state's centennial in 1936. Some of the Santas are also given a western flair to incorporate Cole's love of American Western art, including a reindeer-drawn stage coach, a Santa-esque Native American, Santas riding bucking reindeer, and a long-horn reindeer. Of course the compass rose features a Santa and a Christmas tree pointing north. The title cartouche features the names of Philip and Katherine Cole's three children, Phil Jr., Jane and Kay. The Cole family were known to commission artists to create special Christmas greetings, and also sent their friends and family Christmas cards with a personalized "Old King Cole" theme in 1934 and 1935, as well as a custom book featuring Clement Moore's poem, The Night Before Christmas in 1940.

The map was created by Stacy H. Wood (1887-1942), an American illustrator and graphic artist active in New York who created several maps in the 1930s, including a map for the Boy Scouts Jamboree in 1935.

This map is extremely rare - we were only able to find one other record of this map in existence at the Gilcrease Museum.
References:
Condition: A
On a bright sheet watermarked "Linweave," issued folding and professionally backed in thin, archival tissue to repair a couple of tiny holes along the fold within California and Nevada.