Rare Pictorial Map Promoting Unity after World War II
"Peace Map of the World United - A Pictorial History of Transport and Communications from Jonah to the Jet Plane as Paths to Permanent Peace",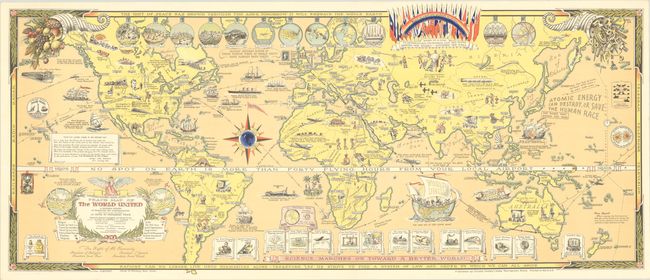 Subject: World
Period: 1945 (circa)
Publication:
Color: Printed Color
Size:
35.2 x 14.9 inches
89.4 x 37.8 cm
This multi-faceted map presents an optimistic view of world relations at the conclusion of World War II. Touted as a "pictorial history of transport and communications," this map illustrates the belief that advances in communication and travel play a key role in the development of world peace. The idea is that these advances make the world seem smaller and neighboring countries seem closer, creating friendliness between nations and an environment ripe for unity. The themes of transportation, communication, and peace are apparent in every detail of the map. The striking equator, designed as a belt with a buckle labeled "Brotherhood of Man," reminds the reader how fast travel has become with the note: "no spot on earth is more than forty flying hours from your local airport." At bottom, vignettes on banners reveal how "science marches on toward a better world," showing various inventions and "firsts" in telecommunication and travel. Various forms of transportation through the ages can be spotted throughout the map, from Jonah riding a whale in 800 B.C.(!) to both a ship and a robot plane of the future.

The path to world unity is depicted in circular vignettes along the top of the map, which shows the advancement in civilization in twelve "units of peace" from a cave man family to a village, eventually leading to a league of nations and "the unity of all nations." An adjacent note indicates that eleven of these "units of peace" have already been taken, meaning that the world had already achieved a league of nations, and that all that remained was unity. This is a reference to the United Nations Charter Conference that took place in San Francisco between April-June, 1945, attended by delegates from 50 nations, and whose charter was ratified by the majority of nations on 24 October, 1945, officially bringing the United Nations into existence. The flags of many of these nations are shown at top center along with a rainbow reading "Peace on earth and goodwill to all men" and a banner reading "Bound by a code of international friendship, law and order - United we stand - divided we fall." A further symbol of the United Nations is included as a ship filled with caricatures of world leaders, sailing the Indian Ocean with "world unity" on the sail and a note below that "we are all in the same boat."

Although drawn and published by renown pictorial cartographer Ernest Dudley Chase, this map was actually conceived, designed and copyrighted by Oliver K. Whiting, and was an update to Whiting's Mercator Map of the World United published by Dudley Chase a year prior. The most notable updates to the previous edition are the note regarding eleven of the units of peace already taken, and a reflection of the atomic bombings of Hiroshima and Nagasaki ("The bomb that ended the war"). Whiting also added his hope for peace with a message in the Pacific: "Atomic energy can destroy, or save the human race."

Oliver Kenneth Whiting (1899-1978) was born in Leeds, England and raised a Quaker with strong values and beliefs of pacifism and humanitarian care. Whiting lived an interesting life and dabbled in several careers. During the Great War he enlisted in the British Army, eventually discharged due to health issues without ever leaving England. After the Great War, he spent time doing political campaigning for the Liberal Party, traveled extensively, and was involved in radio journalism and a leather goods business. Whiting emigrated to the United States during World War II and was a US citizen by 1942. In New York he continued his leather goods business, expanding to other items in the household and novelty categories, which were sold in the US and abroad. Although not much is known about Whiting's relationship with Dudley Chase, they were apparently friends, as evidenced by a hand-colored example of the 1944 Mercator Map that was discovered with a handwritten note from Dudley Chase: "Especially painted for my good friend, Oliver K. Whiting, Ernest Dudley Chase." This example has Ernest Dudley Chase's original hand signature in pencil adjacent to Whiting's imprint, which was partially erased and is only faintly visible. This map is rarely found on the market; we were only able to find one example of this map for sale in the last 30 years.
References:
Condition: A
A bright and clean example with small pinholes in the top corners of the sheet.