NO RESERVE
"[Lot of 3] Antique Maps for the Collector [and] The Mapmakers [and] The Map Book",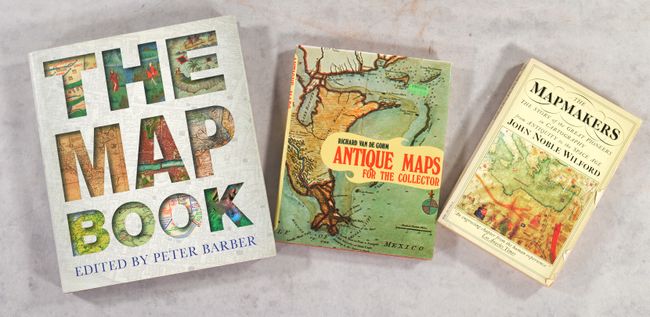 Subject: References
Period: 1973-2005 (published)
Publication:
Color:
A. Antique Maps for the Collector, by Richard van de Gohm, published 1973, printed color (7.6 x 9.6"). This work is a concise history of cartography, with an examination of the major European cartographers from the 14th to the 18th centuries. The book also discusses printing and coloring techniques, restoration, identification, starting a collection, and includes a glossary of map makers. Illustrated with more than 130 images (some in color), 160 pp. First American edition, published by The MacMillan Co. Hardbound with illustrated dust jacket. Condition: Near fine. (A)

B. The Mapmakers, by John Noble Wilford, published 1981, black & white (6.1 x 9.1"). This reference serves as a comprehensive history of the great pioneers in cartography from antiquity to the Space Age. It traces the discoveries and technical ingenuity used in mapping first the surface of the globe, then the earth's interior, the oceans' floors, and finally the moon and the planets. 39 black and white illustrations. Paperback with illustrated covers, 414 pp, includes a bibliography and index. Condition: Contents are lightly toned with some small chips and tears along the edges of some pages. Covers have light shelf wear. (B+)

C. The Map Book, by Peter Barber, published 2005, printed color (10.3 x 11.8"). Barber, Head of Map Collections at the British Library, charts the march of civilization through 175 maps spanning four millennia, from prehistoric maps etched in stone to modern digital maps. The illustrations are accompanied by essays written by leading map historians. 360 pages illustrated in full color. Hardbound in red cloth with gilt titles on spine and an illustrated dust jacket. Condition: The binding is somewhat loose, although the contents are still intact and clean. Corners slightly bumped. Dust jacket has minor wear. (B+)
References:
Condition:
See description above.