Rare Farsi Propaganda Map from World War II
"[World War II Propaganda Map - The Iranian Empire and its Neighbors]",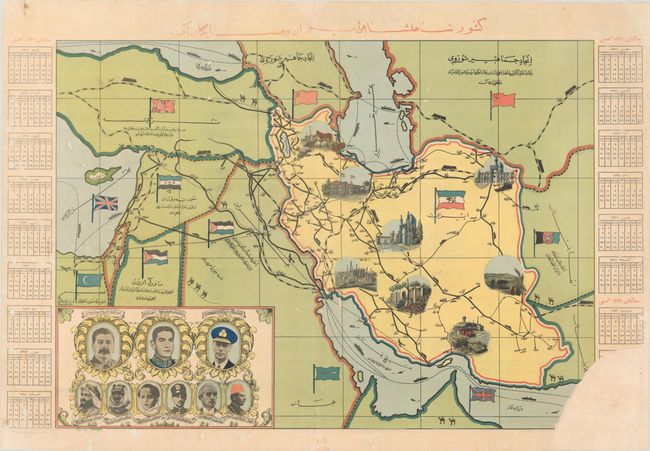 Subject: Iran, World War II
Period: 1942 (circa)
Publication:
Color: Printed Color
Size:
27 x 19.4 inches
68.6 x 49.3 cm
This fascinating and extremely rare propaganda map was published after the Anglo-Soviet Invasion of Iran in August 1941 and was part of a larger effort to improve Iranian sentiment towards the Allies. Due to its oil production, Iran was a crucial partner during World War II and both sides were eager to maintain political relations with Iran and control over its resources. Prior to World War II, Germany had sent exports of iron and heavy machinery to Iran, along with German engineers to help run and maintain the machinery, thereby fostering positive cultural links between the two countries. After the outbreak of war in Europe, an increasing number of German "tourists" began to descend upon Iran, and the British became concerned that Iran would fall into German hands. Although Iran remained a neutral country, the Iranian leader, Reza Shah Pahlavi, was happy to host the Germans and was perceived as pro-German by the Allies. When asked by the British to expel the Germans from Iran, the Shah refused, and soon thereafter the Allies invaded Iran. Following the invasion, the Shah abdicated and was forced into exile, and was replaced by his son, Mohammad Reza Pahlavi. The British realized that Iranian sentiment towards them and their allies was poor and would threaten their ability to move people and supplies through Iran. As a result, the British initiated a propaganda campaign from the British News Centre, housed in the former German consulate building in Tehran. The campaign included posters, maps, films, and other media to be distributed to the Iranian people. Publishing pictorial and visual material was an important strategy of the British News Centre due to the fact that only 10-15% of Iran's population was literate.

This example of political propaganda has limited text in Farsi, with a title that translates as "The Iranian Empire and its Neighbors." The transportation infrastructure is a major focus of the map, with roads, railways, air routes and sea routes well marked and illustrated with miniature cars, planes, trains, ships, and camels (of course). The key cities of Tehran, Tabriz, Esfahan, Mashhad, Abadan, Bandar Abbas, Shiraz and Zahedan are identified with lovely vignettes. At bottom left are the portraits of Stalin, the young Shah Muhammad Reza Pahlavi, and George VI. The leaders of Iran's neighbors are shown just below: King Abdullah of Jordan, Ibn Saud of Saudi Arabia, King Faisal II of Iraq, King Mohammed Zahir Shah of Afghanistan, President Ismet Inonu of Turkey, and King Farouq I of Egypt. The flags of Iran and its neighboring countries are also included in the map, with the British flag flying over the Mediterranean and Persian Gulf. The map is flanked by monthly calendars for 1943-44.

This map is extremely rare - we were not able to locate any other examples in institutions or listed for sale in the last 30 years.
References:
Condition: C+
A bright example with minor soiling and professionally backed in thin, archival tissue to repair numerous small worm holes causing minor loss of image. A small chip at bottom left and a large chip at bottom right, resulting in loss of image at bottom right, have been replaced with old paper.