Voyage Through the Land of Academia
"Kaart van het Stichtsche Academie-Land",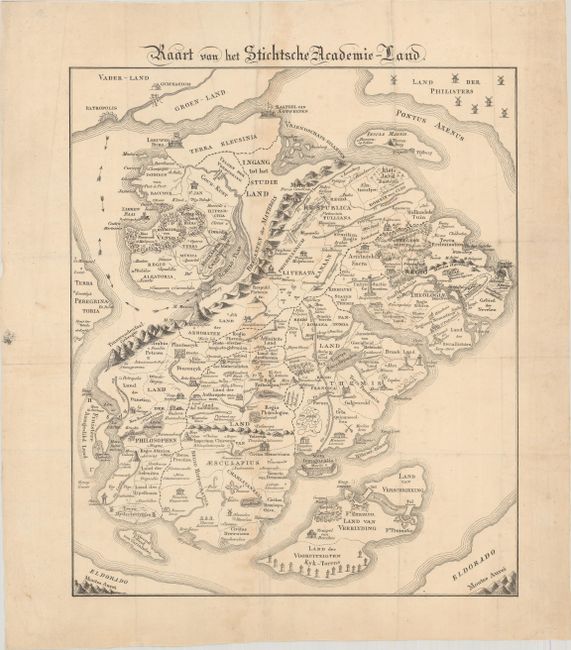 Subject: Cartographic Miscellany, Fictional Map
Period: 1834 (published)
Publication:
Color: Black & White
Size:
12.1 x 14.3 inches
30.7 x 36.3 cm
This map of a student's voyage through the Land of Academia was created by Willem Cornelis Marius de Jonge van Ellemeet (1811-1888), member of a long-established Dutch noble family, and published in a student yearbook in Utrecht. Being from a privileged family, Van Ellemeet lived an interesting and well-traveled life. After studying at the Noorthey Institute, he enrolled in the Utrechtsche Hoogeschool in 1829 to study law. In 1830, he joined other Utrecht students in the vrijwillige jagerscompagnie in support of Prince William of Orange during the Belgian Revolution. Thereafter he traveled extensively throughout Europe, including England and Scotland in 1834 under the tutelage of Gerard Moll, a professor at the Utrecht University.

Van Ellemeet visited Oxford during his time in England, and it is likely that while there he acquired a copy of Joseph Vincent's Oxford in Epitome (1819), which explored the theme of an academic voyage from the perspective of an Oxford student. In Van Ellemeet's map, the student's journey begins at the Father Land at top left, with the goal of reaching the Golden Mountains at bottom. The student must weather trials and avoid temptations throughout the journey. The first obstacles are the Swamp of Creditors, the Domains of Bacchus and Venus (representing drinking and love), and the Dales of Distraction before one can cross the Mountains of Mathematics and the Republic of Literature. Thereafter the student may choose a path through philosophy, medicine, law, or theology. The final step is to pass through Fort Exams and on to the Island of Rejoicing (without crossing the bridge to the Land of Horrors.) A fascinating piece that offers a humorous view into the world of higher education.

This map is very rarely offered on the market, and we are aware of only two institutional examples, which are held in the Harvard University Collections and in the Wesfries Museum in the Netherlands.
References:
Condition: B+
Printed on woven paper with two "Van Gelder" watermarks, professionally backed in thin, archival tissue. There is light soiling and extraneous creases that have been pressed flat.