Portuguese Propaganda Map Supporting the Axis in WWII
"Depois de Tres Anos de Vitorias", Anon.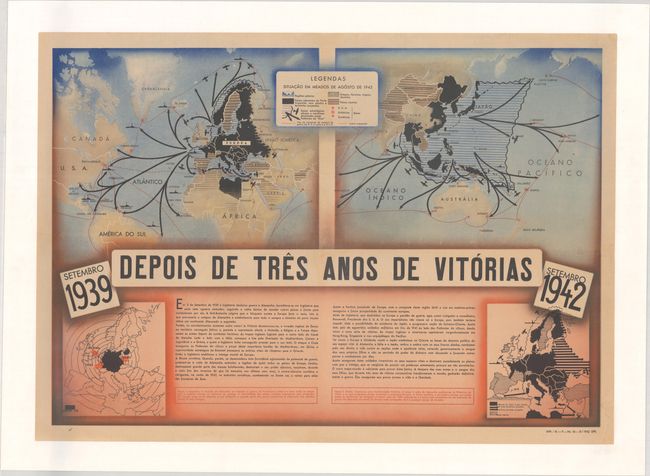 Subject: World, World War II
Period: 1942 (dated)
Publication:
Color: Printed Color
Size:
31.5 x 21.8 inches
80 x 55.4 cm
This rare Portuguese WWII map gives a fascinating pro-Axis perspective of the war, despite Portugal's neutrality. The title focuses on the "three years of victories" for the Axis between September 1939-42, as evidenced by the world map at top. Regions marked in black are those occupied by the Axis powers by September 1942, with the black arrows and blue-lined areas identifying strategic areas that were also controlled by the Axis at the time. Neutral countries, including Portugal, are filled with horizontal tan lines. The map illustrates Axis domination towards the end of 1942 over most of Europe, eastern Asia, and the major oceans. The smaller maps in the bottom corners of the sheet further illustrate the three-year change in Europe. At left, Germany is identified again in black, with red arrows showing the direct and indirect threats from British, French, and Polish enemies in September 1939. In contrast, the right-hand map shows the situation three years later, with numerous European countries having joined the Tripartite Act, including Italy, Romania, Hungary, Slovak Republic, and Croatia, as well as other countries acting as co-belligerent state combatants.

Although Portugal remained neutral throughout the war under the rule of its dictator, Antonio de Oliveira Salazar, it maintained a long-standing alliance with Britain. The author of this map, however, clearly had a very negative view of Britain, claiming that England declared war on Germany and then expected the remainder of Europe to do all of the fighting against Germany while England sat comfortably behind, hoping for "domination of the island people over a torn and exhausted continent." The author also chastises England for mobilizing the Soviet Union (the "mortal enemy of Europe") to join the war. President Roosevelt and the United States do not escape criticism for the U.S.' imperialism in Europe and its desire to destroy Japan, which is described as "the progressive nation of the Far East." The author condemns countries that use the "power of money" or "force other people to fight for them." The world map is shown as evidence of the Axis' "invincible soldiers" who transformed the world after three years of victories, and will "definitely win the war," thereby assuring "young people of life and freedom."
References:
Condition: B+
A clean and bright example that was issued folding and now flattened and professionally mounted on heavy linen to repair a number of small tears and separations along the fold lines. A couple of edge chips at right have also been professionally repaired.