"California", Mora, Joseph Jacinto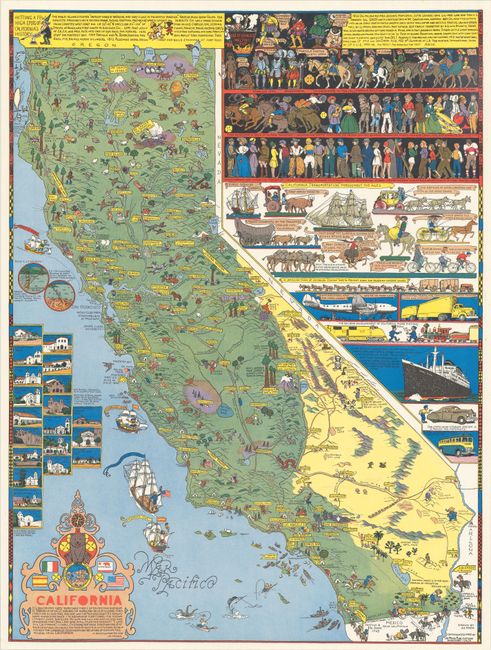 Subject: California
Period: 1945 (dated)
Publication:
Color: Printed Color
Size:
18.4 x 24.4 inches
46.7 x 62 cm
This is the second of two maps that Mora created of California in celebration of a state that provided him inspiration for most of his career, and to which he refers to himself as "a devoted adopted son." The map is filled with details that are both cartoonish and precise. Cities, roads, mountains, and popular tourist sites are carefully noted and humorously illustrated throughout the map. Actual beds are shown in the lava beds, people run away from Mt Lassen (the "only recently active volcano"), an old lady stands atop Old Woman Mountains, and a grim reaper sits in Death Valley. Mora uses the region to the north and to the east of California to recount a history of the state, as well as the evolution of clothing styles and methods of transportation. In the Pacific there are oversized galleons with famous explorers and small insets featuring old Franciscan missions on the Camino Real. An endlessly fun and fascinating map.

Joseph ("Jo") Jacinto Mora was born in Uruguay in 1876 and moved the following year with his family to the eastern United States. He showed an early aptitude for the arts and began illustrating for newspapers and children's books in his twenties. Mora was fascinated with the American West, and after working on cattle ranches in Texas and Mexico as a young adult, he moved permanently out west in 1903. He spent his time learning about old Spanish vaqueros, American cowboys, and the Hopi and Navajo tribes, subjects which became lifelong passions and the focus of much of his work. His paintings and photographs of the Hopi were memorialized into a traveling exhibit for the Smithsonian Institution in 1979.

Mora was an artist with many talents, including drawing, painting, illustration, sculpture, photography, writing, and mapmaking. His artistic skills were perhaps unsurprising, as his father was a noted sculptor, and Jo Mora on occasion helped his father on sculpting commissions, including the facade of the Native Sons of the Golden West Building in San Francisco. His foray into mapmaking began later in his career while he was residing in Pebble Beach, California, where he would spend the last 27 years of his life. Mora's first map was of the Monterey peninsula, entitled California's Playground, and was commissioned by the Del Monte Hotel to commemorate the hotel's grand reopening in 1926. The map combined historical facts with whimsical illustrations, cartographic points of interest, cartoonish figures, and witty notations. And thus was born Mora's unique style that is common on all of his "cartes," a term that he used for his cartographic works. Although Mora only created about a dozen maps in his career, Stephen J. Hornsby contends that "His maps formed the most important collection of pictorial cartography done by any artist of one particular region of the United States" (Hornsby, p. 29).

Provenance: Jo Mora Trust. The map is accompanied by a letter of provenance signed by Peter Hiller, Jo Mora Trust Collection Curator.
References: Hornsby (Picturing America) pp. 28-31; Rumsey #6380.
Condition: A+
A crisp and clean example.