Startling Report on Lawlessness and Violence in Texas During Reconstruction
"[Texas] Letter of the President of Constitutional Convention of Texas Communicating the Report of Special Committee on Lawlessness and Violence in That State",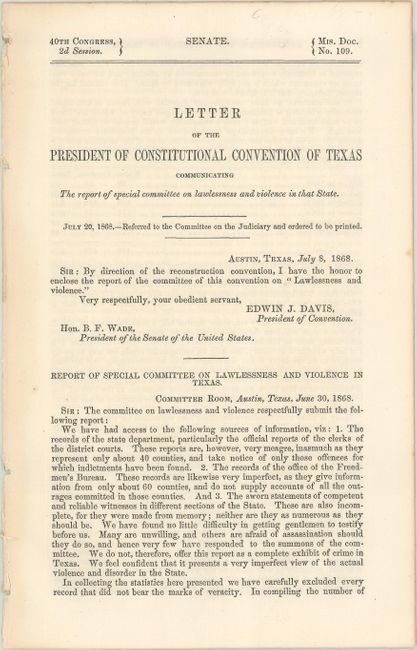 Subject: Document - Texas
Period: 1868 (published)
Publication: Sen. Mis. Doc. 109, 40th Congress, 2nd Session
Color: Black & White
Size:
5.8 x 9 inches
14.7 x 22.9 cm
This 8-page report of the special committee documents in detail with data and compelling anecdotes the extent of violence directed toward Union loyalists and Freedmen (blacks) from 1865 to 1868 and the total failure of the civil authorities to impose law and order. The Committee focused on homicides because including assaults with intent to kill, rapes, robberies, whippings of freedmen, and other outrages "would impose an almost endless task." The homicide data "tell a frightful story of blood" that whites killed 373 freedmen during the three post-war years while freedmen killed 10 whites. Dismissing robberies of colored people as a motive because "their extreme poverty forbids this supposition," the report declares that the disparity "shows conclusively that the 'war of the races' is all on the part of the whites against the blacks." Without naming the Ku Klux Klan, the report identifies "organizations of disloyal, desperate men" systematically perpetrating outrages against loyal whites and freedmen in the localities where they exist throughout Texas. Disbound. No past sales records and only four institutional examples listed on OCLC.
References:
Condition: A
Disbound text is clean and bright.