Important Revolutionary War Plan from British Perspective in Full Contemporary Color
"A Plan of Boston, and Its Environs. Shewing the True Situation of His Majesty's Army. And Also Those of the Rebels. Drawn by an Engineer at Boston. Octr. 1775", Dury, Andrew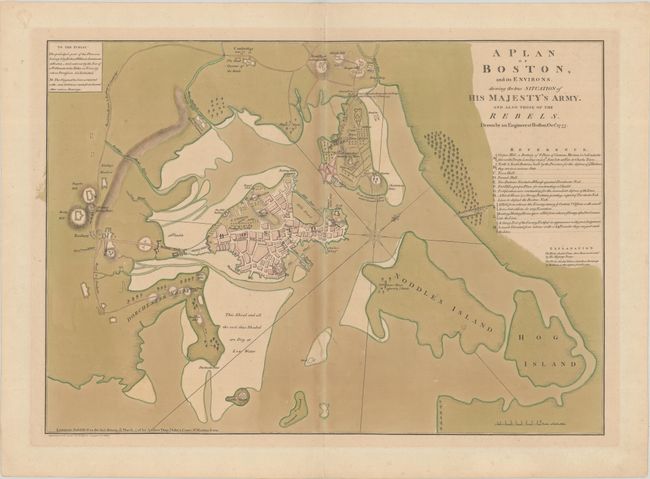 Subject: Boston, Massachusetts
Period: 1776 (dated)
Publication:
Color: Hand Color
Size:
25.4 x 18 inches
64.5 x 45.7 cm
This important Revolutionary War plan depicts the Siege of Boston from a British perspective and was drawn on the spot by Lieutenant Richard Williams in October 1775. The plan focuses on the military points of interest, including batteries, fortifications, encampments, roads, and important buildings (such as Town Hall, Faneuil Hall and Roxbury Meeting House). Other key locations and events are noted, such as the landing of General Howe's troops on the Charlestown Peninsula on June 17 for the Battle of Bunker Hill, as well as the "Head Quarters of the Rebels" at Cambridge, where Washington assumed command of the Continental Army in early July 1775. Although the British occupied the city of Boston at the time the map was drawn, there are clear signs alluding to the fact that this may not be the case much longer. The positions of the "rebel" troops are shown in yellow surrounding the city at Cambridge, the mouth to the Charles River, and Roxbury. The reference key at right notes Buggles Hill, located next to the Roxbury Meeting House, to be "a strong post of the enemy, fortified in appearance with great judgment." In fact, just 5 days after this map was published on 12 March 1776, the British troops evacuated Boston after the Continental Army installed cannons on Dorchester Heights, thereby making the city indefensible for the British.

One of the most interesting aspects of this plan is that it was drawn contemporaneously by Richard Williams, a Royal Welch Fusilier who arrived in Boston on June 11, 1775. Williams kept a diary of his time in Boston and made several maps and panoramic sketches of the city and its surroundings, many from the vantage point of Beacon Hill. Williams was commissioned by British military leaders to make maps to aid the British in their strategy and planning, and this plan was "sent over by the son of a nobleman to his father in town, by whose permission it is published." It is widely believed that the "nobleman's son" was Earl Lord Percy, who was commander of the British relief force at Lexington and Concord in April 1775. Williams evacuated Boston to Canada with the British troops in March 1776, but fell ill and returned home to Britain. Although he arrived home in Cornwall, he died shortly thereafter on May 8, 1776.
References: Nebenzahl (Biblio of Amer. Rev.) #16; Nebenzahl (Atlas of Amer. Rev.) pp. 48-50.
Condition: B+
Full contemporary color on a sturdy sheet with the watermark of a fleur-de-lys in crowned shield with the letters "G R" below and countermark "WF." There is light toning that is a bit more pronounced along the centerfold and short centerfold separations at top and bottom.