"[Lot of 2 - Whitman Massacre Controversy and Indian Wars] Report of the Secretary of the Interior ... the Report of J. Ross Browne, on the Late Indian War in Oregon and Washington Territories", U.S. Department of Interior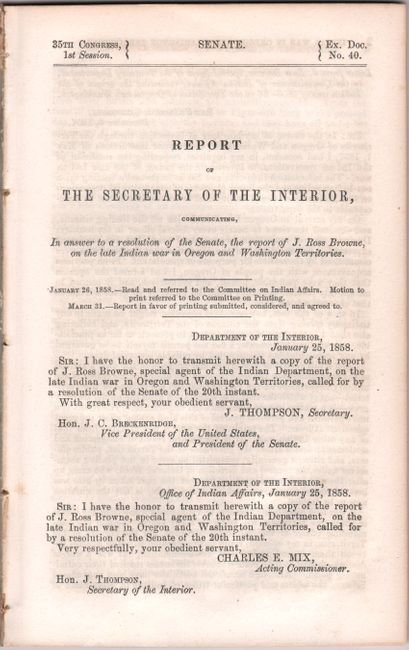 Subject: Documents - Whitman Massacre, Indian Wars
Period: 1858-71 (published)
Publication:
Color: Black & White
A. Report of the Secretary of the Interior, Communicating … the Report of J. Ross Browne, on the Late Indian War in Oregon and Washington Territories, published 1858 (5.6 x 8.9"). Browne's brief report is followed by the long report by Jean Baptiste Brouillet, a French Canadian Catholic missionary, on the Whitman Massacre entitled "Protestantism in Oregon." Marcus Whitman was a physician and an Oregon pioneer killed along with his wife and 11 other settlers in 1847. The cause of the massacre was shrouded in controversy with allegations exchanged between the Catholic and Protestant missionaries. One result of the shocking event was Congressional action to establish the Territory of Oregon in 1848. Disbound, 66 pages. Condition: A few pages are lightly toned, otherwise clean and bright.

B. Letter from the Secretary of the Interior, Communicating … Information in Relation to the Early Labors of the Missionaries of the American Board of Commissioners for Foreign Missions in Oregon, Commencing in 1836, published 1871 (6.0 x 9.2"). This 81 page document is Henry Spalding's response to Brouillet's version of what transpired. Howes describes the Presbyterian Spalding's response as "baseless and hysterical accusations, against Jesuit missionaries and Hudsons' Bay Company officials, of their inciting Indian hostilities against American Protestants in Oregon." Eberstadt states that the "Original edition, of which most copies, it is asserted, mysteriously disappeared. It was reissued [in 1901] after more than a quarter century of virulent controversy over its bitter claims..[that] the Papal Order of the Northwest incited the Whitman Massacre; it is of great value for its first hand account of the founding and progress of the Oregon Missions, 1836 – 1846 containing numerous important documents thereon." Paper wrappers, 81 pages. Condition: Clean and bright with minor wear to modern paper wrapper.
References: Howes #B-878 & #S-806; Eberstadt 122-336.
Condition: A
See description above.