Map Documenting Soviet Gulag System
"Carte de l'Esclavage en U.R.S.S.",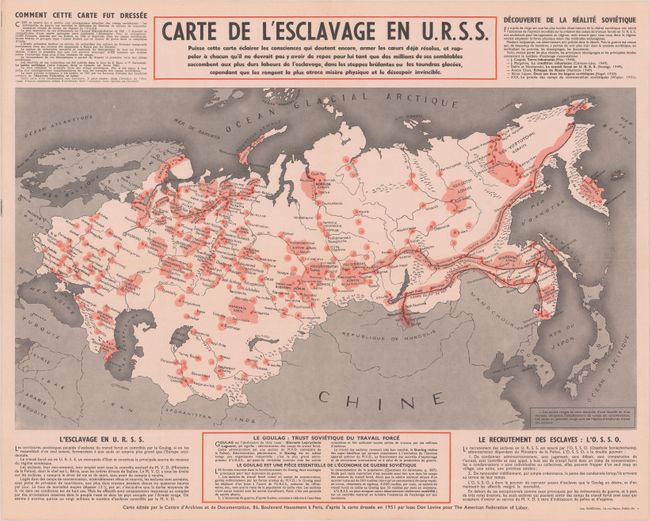 Subject: Russia in Europe, Cold War
Period: 1951 (dated)
Publication:
Color: Printed Color
Size:
20.9 x 16.6 inches
53.1 x 42.2 cm
This is a French edition of Isaac Don Levine's Gulag map, which became an icon of the anti-Communist movement during the Cold War. Gulag is an acronym for the Soviet institution in charge of a network of forced labor camps that were created under the leadership of Vladimir Lenin after the 1918 revolution. The camps operated at their peak under Joseph Stalin's rule between 1930-50, and were promoted in anti-Communist propaganda as a symbol of one of the fundamental flaws of Communism. The first edition of Levine's Gulag map, "Gulag" - Slavery, Inc., appeared in the May 1947 issue of Plain Talk magazine, a monthly anti-Communist American publication for which Levine was the Editor-in-Chief. The map gained significant press coverage and prompted the American Federation of Labor (AFL) to urge the United Nations Economic and Social Council (UNESCO) to conduct an investigation of forced labor. After seeing no significant movement from UNESCO, the AFL decided to push their agenda through other avenues to garner both domestic and international attention. Working in coordination with the Free Trade Union Committee (FTUC), a secret CIA operative, the AFL requested Levine to update his map using new evidence that had surfaced regarding the locations and operations of the camps. The new map appeared in 1951 in several languages and editions, including one that was published in Time Magazine.

The map shows the locations of the labor camps with red dots indicating those under centralized control and the hammer and sickle symbol indicating those under local control. The red shading represents the areas in which the laborers worked, including along several rail lines. The text surrounding the map explains the sources for the map, a list of literature on the Soviet forced-labor camp system, the brutal conditions within the camps, and the arbitrary Soviet method of recruitment of slaves as young as 8 years old.

This French edition was edited by the Centre d'Archives et de Documentation in Paris, and printed by Marechal. Isaac Don Levine was a Russian-American journalist who was born in Russia in 1892 and emigrated to the United States as a young adult. He worked for several newspapers and other publications over his career and was known as a specialist on the Soviet Union.
References: cf. PJ Mode Collection #1337.
Condition: A
Issued folding with very minor toning.