Rare German Propaganda Map at Start of World War I
"Europaische Treibjagd",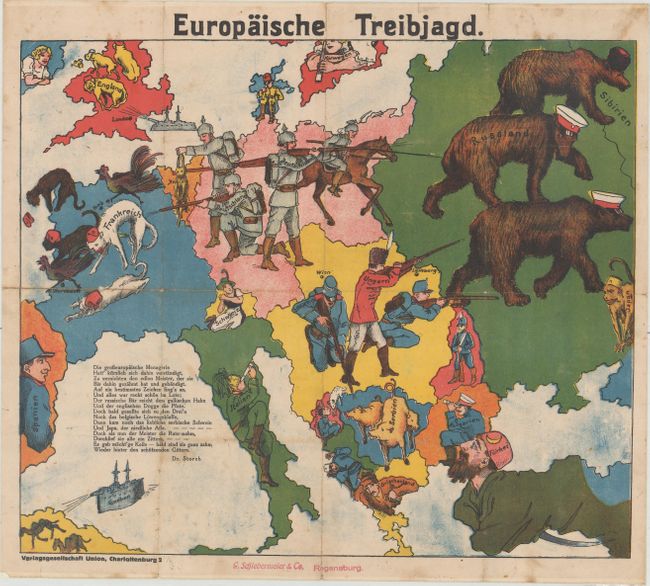 Subject: Europe, World War I
Period: 1914 (circa)
Publication:
Color: Printed Color
Size:
16.4 x 14 inches
41.7 x 35.6 cm
This German propaganda map was published at the beginning of WWI to convince Germans of the power and early successes of the Central Powers' military. As the title suggests, the imagery shows a European hunting party, in which the Central Powers are depicted as soldiers hunting the Allied Powers, which are each depicted as animals. The typically formidable Russia is depicted as three bears, scampering away from a German Uhlan and a Hungarian soldier with a musket. Another German soldier holds the Belgian hare up by its ears, while another fires a musket at a French cat. Possibly in response to G. W. Bacon & Company's Hark! Hark! The Dogs Do Bark! in which each European country is depicted as a dog, with Britain as a fierce bulldog, here a German warship fires upon several British bulldogs, who flee toward the Irish Sea (although an Irish maiden appears to laugh at their misfortune). Serbia is illustrated as a trio of pigs, and Japan, not to be left out, appears as a monkey at the edge of the map. Neutral countries are depicted in human form, however as peaceful civilians rather than soldiers. A short poem by Dr. Storch explains that although the European "menagerie" has attempted to rise up against its noble master, the beasts will soon be tamed. Published by Verlagsgesellschaft Union in Charlottenburg (now part of Berlin) and G. Schiedermeier & Co. in Regensburg.

Although the human personification of continents and countries can be seen as early as the 14th century (on maps by Opicinus de Canestris), human and animal metaphors on maps reached a new level in Europe between 1845 and 1945 with political cartoon maps. The rise of these satirical maps reflected the momentous political and cultural changes that occurred during the time. Political leaders were caricaturized and European nations were given symbolic identities that lent humor and accessibility to the geographical map. Based on popular stereotypes, these visual representations even found their way into the classroom to help bring geography and politics to life. Original serio-comic maps are very scarce due to their ephemeral nature.
References:
Condition: B+
Issued folding, now flattened and backed in linen to provide support and repair several fold separations. There is light soiling and a few tiny holes along the folds.