Satirical Map of Europe at Start of World War I
"Humoristische Karte von Europa im Jahre 1914", Leutert & Schneiderwind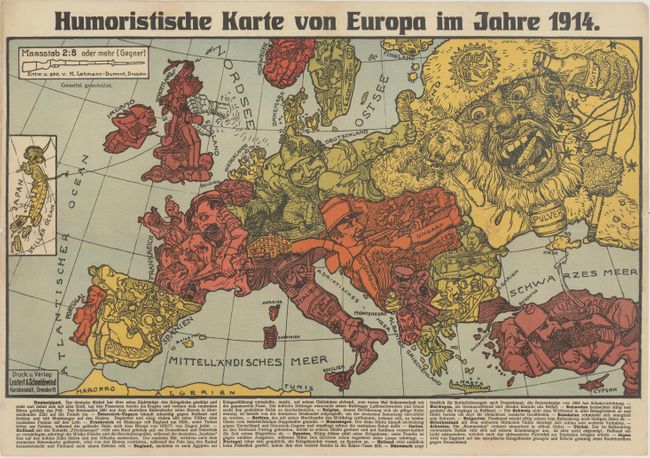 Subject: Europe, World War I
Period: 1914 (dated)
Publication:
Color: Printed Color
Size:
19.1 x 10.9 inches
48.5 x 27.7 cm
This rare political caricature map of Europe depicts the continent at the outbreak of World War I. The map was created by Karl Lehmann-Dumont in Dresden, and depicts the Germans' view of the alliance situation and territorial issues towards the end of the first year of the war. The key countries involved in the war are represented by human caricatures with various props that help illustrate the situation. German text below the map describes each country's "character." Published by Leutert & Schneidewind. This example was distributed from Vienna by Walter Zimmermann.

Each country is depicted in a fascinating and humorous manner. Germany is described as a Deutsche Michel (an ordinary or average German), stretching and extending himself with all his might, already grasping the Frenchman by his throat and punching the Russian bear. Germany's Imperial Eagle unleashes bees from their hive to attack its enemies, which appear on the map as both bees and missiles. France, already covered in bees, appears to retreat, and calls to England for help. Meanwhile, the French rooster crows about its victories in the battles from 1870-71 (Franco-Prussian War). The giant Russian bears an "Angel of Peace" symbol on his cap, with a bottle of Vodka in one hand and a whip of "revolution" in the other hand. The Russian opens his mouth wide in an attempt to swallow Germany and Austria whole, but is deterred by the German bees. England, who has caused Egypt to declare war, stands on bags of money while being punched in the face by an iron fist. The English bulldog finds it difficult to breathe with an Indian snake wrapped around its neck. The Englishman has also dragged Japan into the war, and holds a string that is attached to Japan, depicted in an inset at left. Numerous other intricate relationships and symbolic references fill the map.

Although the human personification of continents and countries can be seen as early as the 14th century (on maps by Opicinus de Canestris), human and animal metaphors on maps reached a new level in Europe between 1845 and 1945 with political cartoon maps. The rise of these satirical maps reflected the momentous political and cultural changes that occurred during the time. Political leaders were caricaturized and European nations were given symbolic identities that lent humor and accessibility to the geographical map. Based on popular stereotypes, these visual representations even found their way into the classroom to help bring geography and politics to life. Original serio-comic maps are very scarce due to their ephemeral nature.
References: Curtis & Pedersen (War Map) pp. 32-35; PJ Mode Collection #1174.01.
Condition: A
A clean and bright example, issued folding and now flattened with several of the folds professionally reinforced with archival tissue, repairing minor separations and holes along the folds.