"[Manuscript Civil War Map] Retreat of the Loyal Indians from the Indian Country Under A-Poth-Yo-Ho-Lo in the Winter of 1861",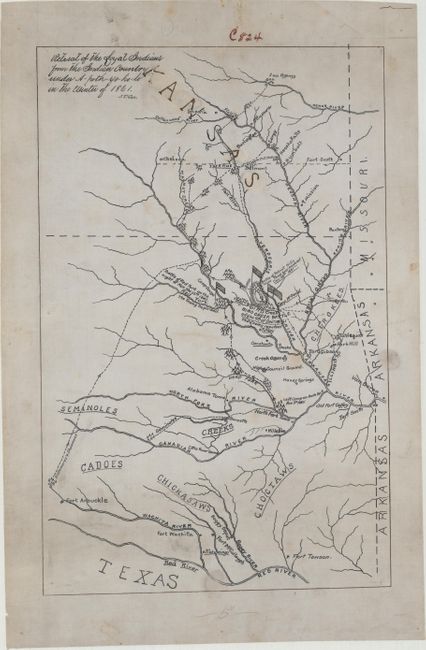 Subject: Oklahoma & Kansas, Civil War
Period: 1861 (circa)
Publication:
Color: Black & White
Size:
9.9 x 15.4 inches
25.1 x 39.1 cm
This fascinating Civil War manuscript map is either the original drawn by John T. Cox himself or an early and well executed manuscript copy of that map. Drawn on onionskin, it details the battles in Indian Country by the tribes loyal to the Union and Confederacy, as well as the route of retreat to Kansas of the tribes loyal to the Union. John T. Cox was a Union officer who became a Special Indian Agent and accompanied the loyal Union tribes in their battles and retreat. Cox provided illustrations and maps from the war zone to Harper's Weekly and later served in many capacities, including surveyor. The map was also reproduced on page 263 in Annie Heloise Abel's classic work The American Indian as Slaveholder and Secessionist, Cleveland, Arthur H. Clark Company, 1915. The map is referenced in footnote 532 of Abel's work, describing a letter Cox wrote to another Indian agent:

Herewith I enclose a map of the route of retreat of the early Loyal Refugee Indians, under Apoth yo-ho-lo, in the Winter of 1861.

With the facilities within my reach, for obtaining facts connected with that remarkable exodus, I am fully warrented in saying, that the history of the War does not furnish a parallel of patriotic devotion to the Union.

...the principal object of this report is to call attention to the real claims of the Indians upon the Government, not only to sympathy, but compensation for services from the time they abandoned their homes and all they possessed, and took up arms in support of the Government.

Although they claim nothing of the kind, yet the moral effect of such a tangible recognition of their early services, would insure fidelity of all other tribes against any other future rebellion or disaffection against our Government.

The history of their destitution, and terrible sufferings in their pilgrimage of three hundred miles in mid-winter, is familiar to you and not necessary here to relate.

A wonderful piece illustrating Native American participation in the Civil War.
References:
Condition: B+
Light soiling with a few tiny pinholes and a small puncture hole in the "K" of Kansas.