Rare Dutch Satirical Map of World War I
"Het Gekkenhuis (Oud Liedje, Nieuwe Wijs)",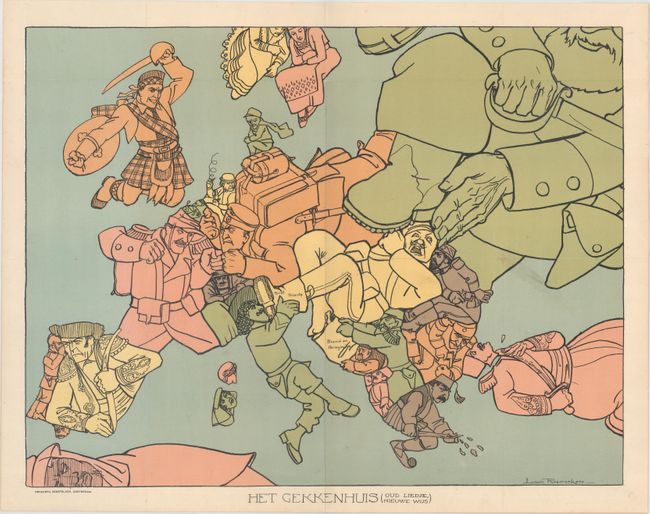 Subject: Europe, World War I
Period: 1915 (circa)
Publication:
Color: Printed Color
Size:
20.3 x 15.7 inches
51.6 x 39.9 cm
This fascinating propaganda map was created by Louis Raemaekers, a famous Dutch cartoonist, at the beginning of World War I. Early in the war Raemaekers crossed the border into Belgium to witness first-hand the brutality of the advancing Germans. Despite Holland's neutrality, the atrocities Raemaekers witnessed compelled him to create anti-German cartoons. The cartoons depicted such harsh critiques of the Germans, that Germany demanded that Holland put Raemaekers on trial for compromising Dutch neutrality, and even put a bounty of 12,000 Guilders for his capture, dead or alive. Raemaekers was acquitted and fled to London to continue his work. During the war he created hundreds of political cartoons, which were distributed on posters, postcards, brochures, and in newspapers and magazines. The dissemination of his work is considered one of the most extensive propaganda activities of World War I.

The title of this map translates roughly as: "The Insane Asylum (Old Song, New Tune)" referring to Holland's perspective of the war waging around them. Although Holland is depicted sitting peacefully, smoking a pipe, he is holding a gun and keeps an ever-watchful eye on his neighbor. In contrast, Portugal and Spain are embroiled in their own affairs, ignoring the unrest around them. France and Germany are engaged in a fist-fight, while the British Isles are depicted as a strong, fierce Highlander. Italy and a giant Russia appear to be playing tug-of-war with the Austro-Hungarian Empire. After declaring itself neutral at the onset of the war, the Ottoman Empire accepted military support from Germany, causing the Allies to declare war on the Ottoman Empire. The situation caused disorder within the Empire, which is cleverly depicted here with a Turk cutting his own throat with a sword stamped "Made in Germany." Each country is cleverly depicted as a human figure - all of which are male except for the gentle Norway and Sweden and the islands of Corsica and Sardinia. Published by Senefelder.
References:
Condition: A
A bright example, issued folding on a sturdy sheet with minor soiling in the Black Sea just south of Russia.