Rare Satirical Map of Europe at Start of World War I
"European Revue. Kill That Eagle", Geographia Map Co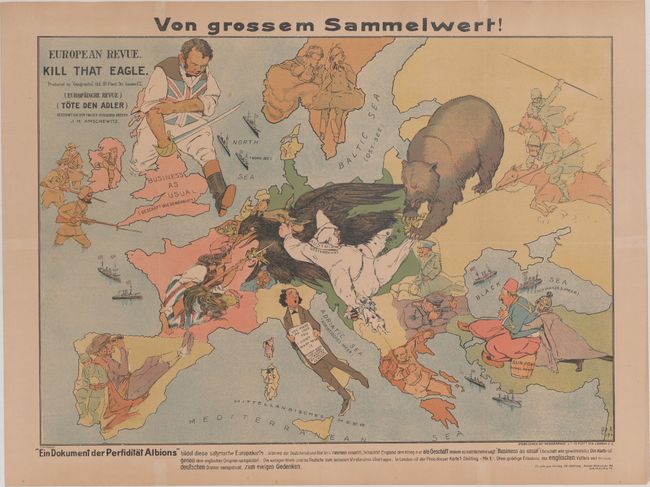 Subject: Europe, World War I
Period: 1914 (dated)
Publication:
Color: Printed Color
Size:
25.4 x 18 inches
64.5 x 45.7 cm
This is the Hamburg edition of John Henry Amschewitz's fascinating serio-comic map, published circa 1915, near the beginning of WWI. Originally published in December 1914, Amschewitz's map was copied by German propagandists with a mis-interpretation of the phrase "business as usual" to prove Britain's war-mongering ways. In London, the phrase and the portrayal of the nation as a domineering John Bull had patriotic connotations, symbolizing the strength and resilience of British business despite the war. As Curtis and Pedersen put it in their entry on this interesting map, "It is a tribute to the power of the image that both opposing sides are able to invoke it without change, one as a rallying cry against a despised foe, the other as a warning against encirclement by their enemies."

Amschewitz was a British born artist who was unable to enlist for war service due to an injury he sustained while working on a mural project in Liverpool. Instead Amschewitz focused on his interests in art and theater, themes which are apparent in this map and even the title itself: European Revue. The eagle refers of course to Germany, which has its claw on Marianne's bayonet, while its other claw is being pulled by the Russian bear. Austria is depicted as a clown with the head of an ass in one hand and Italy croons the song lyrics, "You made me love you, I didn't want to do it...," written by American Al Jolson and first published in 1913.

Although the human personification of continents and countries can be seen as early as the 14th century (on maps by Opicinus de Canestris), human and animal metaphors on maps reached a new level in Europe between 1845 and 1945 with political cartoon maps. The rise of these satirical maps reflected the momentous political and cultural changes that occurred during the time. Political leaders were caricaturized and European nations were given symbolic identities that lent humor and accessibility to the geographical map. Based on popular stereotypes, these visual representations even found their way into the classroom to help bring geography and politics to life. Original serio-comic maps are very scarce due to their ephemeral nature.
References: Curtis & Pedersen (War Map) pp. 30-31.
Condition: B+
Issued folding, now flattened and backed in tissue with a few short archivally repaired tears at fold intersections. Light toning.