Rare French Propaganda Map Showing Prussian Octopus
"La Guerre est l'Industrie Nationale de la Prusse",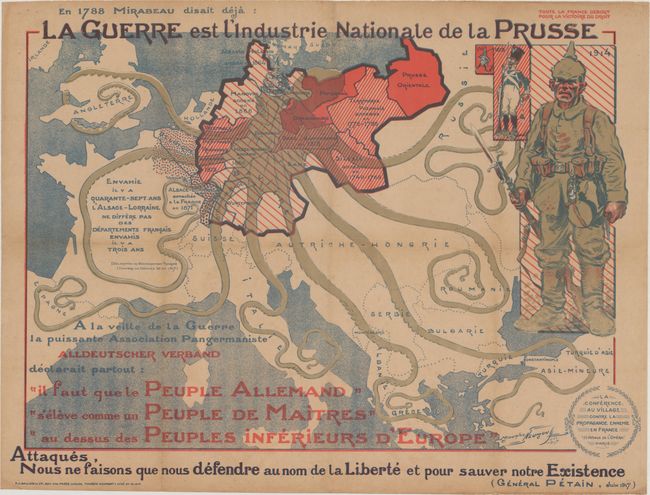 Subject: Europe
Period: 1917 (dated)
Publication:
Color: Printed Color
Size:
30.4 x 23.2 inches
77.2 x 58.9 cm
This fascinating propaganda map was created to convince a war-weary French public that France's participation in the war was necessary to secure not only the country's freedom but even its entire existence. Created by artist Maurice Neumon, who is known for several famous WWI posters, the central feature is a large octopus wearing a Pickelhaube helmet to represent the German-Prussian Empire, with its imperialistic tentacles reaching throughout Europe and even as far as Turkey. Each country's national borders are depicted as x's, a common symbol used to denote battle lines or troop positions. At top is a quote by French revolutionary Comte de Mirabeau, who famously stated in 1788, "Warfare is Prussia's National Industry." As further proof of Prussia's militarist tendencies, the three figures at top right illustrate the increase in size and power of the Prussian and German armies from 1715 to 1815 and finally to 1914. The 1914 figure in feldgrau uniform depicts one of Kaiser Wilhelm's soldiers, who appears quite menacing with a bloody hand print on his jacket. The color-coded backgrounds of these three figures are mirrored in the map, showing the Prussian and German conquests during each of these time periods. Regions that are marked in blue and red dots are those that are currently occupied by the German army, including Belgium, parts of northern France, and the Alsace-Lorraine region, which was "torn away" from France in 1871.

Symbolically, France is the only country that is not labeled, further reinforcing the belief that France might cease to exist if it does not fight against the German foe. Instead the space is filled with a declaration made by the French government on 25 October 1917 indicating that the invasion of Alsace-Lorraine 47 years ago is no different than the invasion of other French departments within the past three years. Another foreshadowing quote at the bottom of the map is from the Alldeutscher Verband (Pan-German League), an extreme right-wing, nationalist and anti-Semitic organization, which proclaimed on the eve of the war that: "The German people must elevate themselves to the Masters of the inferior peoples of Europe." France's response is below the map in the form of a quote by General Philippe Pétain, a French war hero during WWI: "Having been attacked, we can only defend ourselves in the name of Liberty and to protect our Existence." His message is further reinforced at top right with the message: "All of France stands up for the victory of the right."

This poster was produced for La Conference au Village Contre la Propagande Ennemie en France (the village conference against enemy propaganda in France), which was formed in 1917 to counter German propaganda by increasing patriotism throughout France. Published in Paris by P.J. Gallais et Cie.
References: Curtis & Pedersen, pp. 78-81.
Condition: B+
Issued folding, now flattened and backed in thin, archival tissue to repair some fold separations. There is light toning and some soiling along the edges of the sheet.