"[U.S. Army Propaganda Leaflet in Japanese - The Leyte Lifeline Will Be Cut]", U.S. Army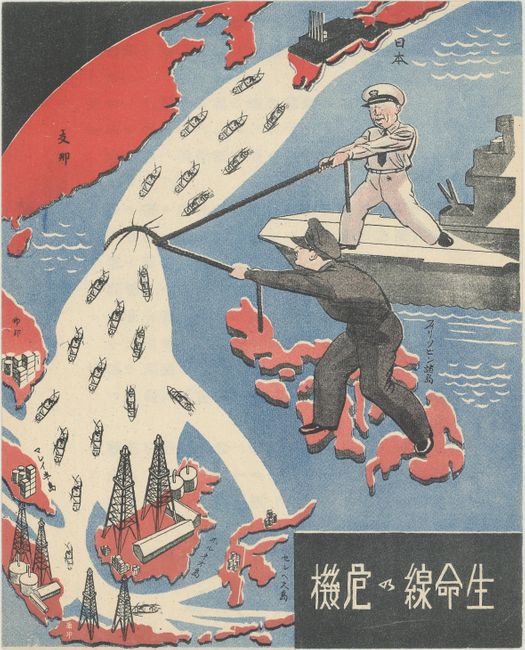 Subject: Southeast Asia, World War II
Period: 1944 (circa)
Publication:
Color: Printed Color
Size:
7.8 x 9.7 inches
19.8 x 24.6 cm
This is an exceptionally well-preserved leaflet coded "10-J-1." It was dropped by U.S. forces on Japanese troops on the island of Leyte in the Philippines shortly after General MacArthur's proclamation that "I have returned" (October 20th, 1944).

The graphics on the front of the leaflet clearly present how the occupying forces in the Philippines were becoming increasingly isolated from the mother country by choking off the supply lines. The combined figures of Admiral Nimitz (on an aircraft carrier) and General MacArthur (on the Southern Philippines) symbolically squeeze a noose around the supply routes, cutting off food and fuel from the occupied lands in Southeast Asia.

A translation of the text on the back of the leaflet reads as follows:

Key to the Outcome of the War

The Domei News Agency Stated on November 7, 1944:

The Japanese loss of Leyte will disrupt sea lane transportation of our vessels to the Southern Regions, and will endanger the transportation of our various raw materials from the Southern Regions to the Homeland. Just how accurate was this prediction is shown by the successive military developments themselves.

The entire strength of the Army, Navy, and Air Force under General MacArthur and Admiral Nimitz is now able to operate freely from the newly captured bases in the Philippines. The sea route which connects the homeland of Japan and the Southern regions is gradually being compressed.

The day is not far off when this sea route, which is called the life-line, will be cut; and Japanese shipping will be halted. There will soon be a shortage of airplane fuel. The supply of rubber, tin, and other vital supplies needed for the implements of war will soon be in short supply.

No matter how strong a soldier may be, when even the very supply lines cannot be protected, how can he satisfactorily perform his task?

An unusual and well-preserved example of American war propaganda near at the latter stages of World War II.
References:
Condition: A
Remarkable condition considering its intended use with just a few tiny edge tears.