NO RESERVE
"[Lot of 6 - Exhibition Catalogs]",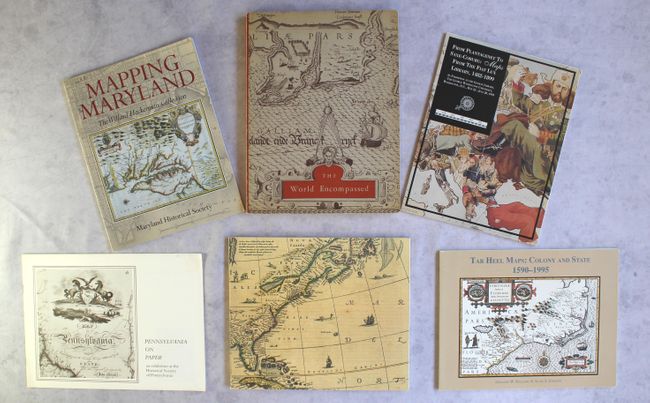 Subject: References
Period: 1952-98 (published)
Publication:
Color: Printed Color
Size:
See Description
This lot includes six fascinating catalogs from exhibitions up and down the East Coast.

A. Mapping Maryland - The Willard Hackerman Collection, by the Maryland Historical Society, published 1998, printed color (8.5 x 11.0"). This handsome book showcases the cartographic history of Maryland, highlighting more than 60 maps in the the Willard Hackerman Collection. It features a brief overview of Maryland mapping and a number of illustrations, several of which are in vibrant full color. Paperback, 63 pp. Condition: Near fine. (A)

B. The World Encompassed - An Exhibition of the History of Maps Held at the Baltimore Museum of Art October 7 to November 23, 1952, by the Walters Art Gallery, published 1952, black & white (9.1 x 12.1"). This interesting and scarce reference catalog was printed to accompany an exhibition on the history of maps held at the Baltimore Museum of Art in 1952. Pictorial wrappers, paperback, includes a sheet with addenda and corrigenda. Provides information on over 280 maps with 63 plates. The illustrations are very high quality. One of only 2000 copies printed. Condition: There is light toning along the edges of the pages and on the covers. There is shelf wear and a tear along the spine. (B+)

C. America Emergent - An Exhibition of Maps and Atlases in Honor of Alexander O. Vietor, by Barbara B. McCorkle, published 1985, printed color (10.8 x 9.3"). Curator of Maps at Yale, Alexander Vietor built one of the country's outstanding collections, emphasizing early maps of North America and the emerging United States. This catalog accompanied the exhibition of 90 maps and atlases, illustrating five centuries of the mapping of America. Illustrations in color and b/w. Softbound with illustrated cover, 103 pages. Condition: Minor shelf wear. (A)

D. Pennsylvania on Paper - An Exhibition at the Historical Society of Pennsylvania, by the Historical Society of Pennsylvania, published 1977, black & white (11.6 x 8.5"). This paperback catalog for an exhibition at the Historical Society of Pennsylvania lists 55 maps and includes several black & white illustrations. Peter J. Parker contributes a brief introduction. Condition: There is minor toning and residue from a sticker on the front cover. (B+)

E. From Plantagenet to Saxe-Coburg: Maps from the Fiat Lux Library, 1482-1899 - An Exhibition at the Gelman Library, the George Washington University..., by Eric W. Wolf, published 1995, black & white (8.5 x 11.0"). Wolf compiled this catalog of his own collection, exhibited in 1995 at George Washington University. It includes illustrations and descriptions of 50 maps and shows the incredible breadth of Wolf's collection. Paperback, 68 pp. Condition: The title page and the first couple pages are loose, and there is minor shelf wear. (B+)

F. Tar Heel Maps: Colony and State 1590-1995 - A Catalogue of Maps of North Carolina on Exhibit at North Carolina Wesleyan College..., by Gregory W. Williams and Allen S. Johnson, published 1996, black & white (11.0 x 8.6"). This catalog should be of great interest to collectors of North Carolina maps. It traces the cartographic history of the state from 1590 to 1995. The book includes an in-depth essay, "Four Hundred Years of North Carolina Maps," and a number of black & white illustrations. Paperback, 92 pp. Condition: Minor shelf wear. (A)
References:
Condition:
See description above.