NO RESERVE
"[Lot of 2] Dealer's Thesaurus - 6,000 Ways to Describe Books & Historical Paper [and] Foreign Maps",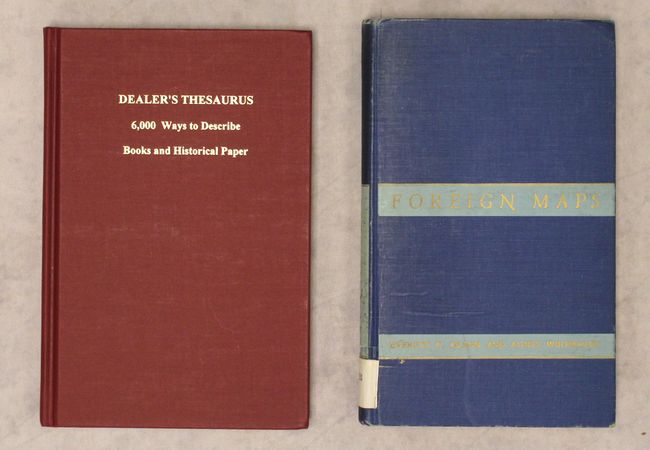 Subject: References
Period: 1944-93 (published)
Publication:
Color:
A. Dealer's Thesaurus - 6,000 Ways to Describe Books & Historical Paper, by Lynn Vigeant, published 1993, black & white (6.3 x 9.3"). This extensive and well-organized thesaurus is a great resource for dealers or anybody seeking sharper and more precise ways to write about or discuss antique books and historical paper. It includes a section specifically on maps. Hardbound in burgundy cloth with gilt titles on cover and spine. 195 pp. plus an index. Condition: Like new. (A+)

B. Foreign Maps, by Everett C. Olson and Agnes Whitmarsh, published 1944, printed color (5.8 x 9.5"). Published in the midst of World War II, when there were American soldiers on the field in far-flung foreign lands as well as a boom in map, globe, and atlas sales at home, this informative volume provides an overview of how to read and understand maps from all over the world. The book features glossaries of a number of foreign languages and explanations and examples of scales, signs and symbols, grid systems, and more. It also includes sixteen color plates showing portions of maps from various countries. Hardbound in blue cloth with gilt titles and spine. 237 pp. Condition: Contents are lightly toned with some creases and short tears on of the foldout pages. Covers have light shelf wear. Ex library with library stamps, a card sleeve, and a call number sticker on the spine. (B)
References:
Condition:
See description above.