Rare Satirical Map of Europe at Start of World War I
"Carte Symbolique de l'Europe / Europe en 1914",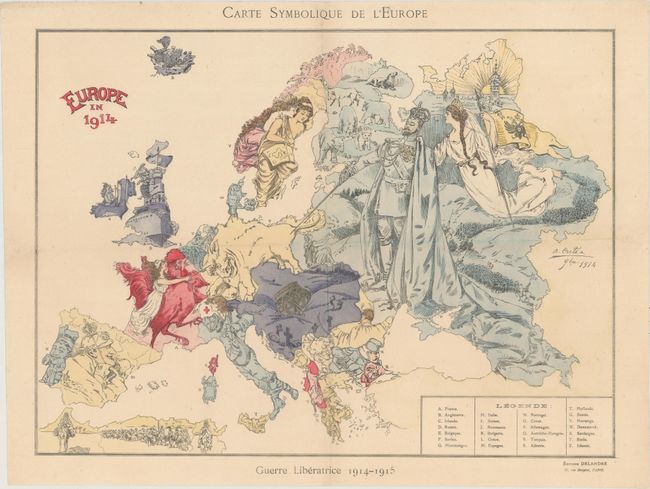 Subject: Europe, World War I
Period: 1915 (dated)
Publication:
Color: Hand Color
Size:
22.3 x 16.4 inches
56.6 x 41.7 cm
This rare political caricature map of Europe depicts the continent at the beginning of World War I. The map depicts the alliance situation and territorial issues towards the end of the first year of the war. The key countries involved in the war are represented by human or animal caricatures with various national symbols that help illustrate the situation. The map itself is devoid of text, with a lettered key inserted at bottom right to identify the countries portrayed. This map was designed by French artist B. Crété and published by Delandre in Paris. A close variant was created by Validslav Levinsky, an artist in Warsaw, and published in Poland. It is believed that Crété's edition appeared first, in part due to the date (9bre 1914) in the imprint, and the fact that Levinsky's edition did not pass the censors until April 1915. Several editions were published in Paris and Poland through 1915, with a notable difference in the depiction of Italy. The earlier editions depict Italy as a peaceful mandolin player lulling Sicily to sleep (as seen in this example), while later editions, published after Italy joined the Allies in the war, show Italy as a soldier holding a gun. All editions are scarce.

Each country is depicted in a fascinating and stereotypical manner. France is shown as Marianne riding a cockerel, stabbing a dagger into the forehead of a menacing bull representing Germany. The bull is also being prodded from behind by the dominating figure of Tsar Nicholas II of Russia. Sweden and Norway are illustrated as two young embracing women looking over an atlas. Great Britain is depicted as a naval captain riding a large warship. Austria-Hungary is the only country that is not represented by a human or animal form, but rather is shown as a graveyard surrounding a large fallen crown, foreshadowing the end of the Austro-Hungarian Empire. Numerous other intricate relationships and symbolic references fill the map.

Although the human personification of continents and countries can be seen as early as the 14th century (on maps by Opicinus de Canestris), human and animal metaphors on maps reached a new level in Europe between 1845 and 1945 with political cartoon maps. The rise of these satirical maps reflected the momentous political and cultural changes that occurred during the time. Political leaders were caricaturized and European nations were given symbolic identities that lent humor and accessibility to the geographical map. Based on popular stereotypes, these visual representations even found their way into the classroom to help bring geography and politics to life. Original serio-comic maps are very scarce due to their ephemeral nature.
References:
Condition: B+
A clean and bright example with original color. The map was previously folded in half both horizontally and vertically, which has since been professionally pressed with the folds expertly reinforced on verso, repairing several separations and tiny holes along the folds.