"[Lot of 2] Understanding Maps - A Systematic History of Their Use and Development [and] Animals and Maps",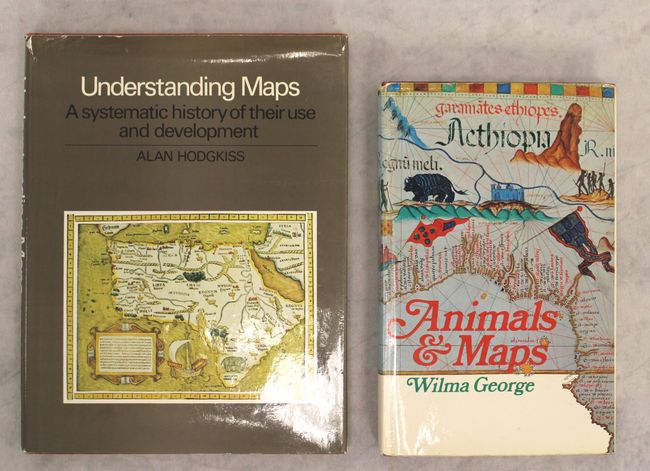 Subject: References
Period: 1969-81 (published)
Publication:
Color: Black & White
Size:
See Description
A. Understanding Maps - A Systematic History of Their Use and Development, by A.G. Hodgkiss, published 1981 (8.5 x 11.0"). This reference provides an overview of developments in mapmaking from ancient times to the modern era, emphasizing the ways in which maps communicate crucial information about the world by visual means. It contains great information of mapmaking techniques and printing methods. 209 pp. with 126 illustrations and a good bibliography. Hardbound in red buckram with dust jacket. Condition: Covers fine and contents very good with light toning along sheets' edges. There are short tears along the top of the dust jacket. (B+)

B. Animals and Maps, by Wilma George, published 1969 (6.1 x 9.8"). First edition of this book that shows that cartographers had a sound knowledge of the animals and their distribution on the various continents. Ristow says that George "...argues convincingly that the mapmakers knew what they were about and that Renaissance and later maps provide much useful source material on contemporary natural history." Another reference says that the book "...seeks to support the thesis that animals portrayed on ancient maps are zoogeographically [sic] significant." Hardbound in maroon cloth with a dust jacket. Octavo, 235 pp., ten page bibliography, index. Profusely illustrated in black and white. An unusual cartographic reference book with an interesting thesis that is a useful read for all map collectors. Condition: Contents and covers near fine with just a hint of toning along the sheets' edges. The dust jacket has minor wear and a few short tears. (A)
References:
Condition:
See description above.