"[Lot of 3] The Mapmaker's Art - Essays on the History of Maps [and] Five Centuries of Map Printing [and] The Mapmakers",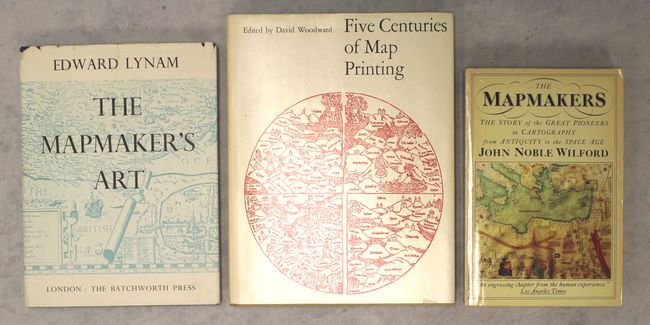 Subject: References
Period: 1953-82 (published)
Publication:
Color:
Size:
See Description
A. The Mapmaker's Art - Essays on the History of Maps, by Edward Lynam, published 1953, black & white (7.7 x 10.2"). This informative reference on the history of British maps and mapmakers covers topics including period ornament, writing, and symbols on maps, Saxton's monumental atlas of England and Wales, and early mapping of the Bahamas. 140 pp. of text and illustrations. Hardbound in blue cloth covers with gilt title on spine and a dust jacket. Condition: Contents and covers fine with a number of short tears and small chips to the lightly soiled dust jacket. (A)

B. Five Centuries of Map Printing, by David Woodward, published 1975, printed color (8.8 x 11.4"). A series of essays compiled and edited by Woodward. These essays stem from lectures comprising the Third Series of Kenneth Nebenzahl, Jr., Lectures in the History of Cartography at the Newberry Library (1972). The authors, all renowned in the field of cartography, provide an excellent treatise of the various printing techniques used in map making, from woodcut to offset lithography. 177 pp, color frontispiece & 37 monochrome illustrations. Hardbound in tan library buckram with an illustrated dust jacket. Condition: Contents fine and covers very good with toning along the spine. There is light toning and minor soiling on the dust jacket. (A)

C. The Mapmakers, by John Noble Wilford, published 1982, black & white (6.1 x 9.1"). This reference serves as a comprehensive history of the great pioneers in cartography from antiquity to the Space Age. It traces the discoveries and technical ingenuity used in mapping first the surface of the globe, then the earth's interior, the oceans' floors, and finally the moon and the planets. 39 black and white illustrations. Paperback with illustrated covers, 414 pp, includes a bibliography and index. Condition: Pages are lightly toned. There is minor wear and faint soiling along the spine. (B+)
References:
Condition:
See description above.