"[Lot of 3] The Dictionary of Imaginary Places Expanded Edition [and] Animals & Maps [and] Cartographical Curiosities",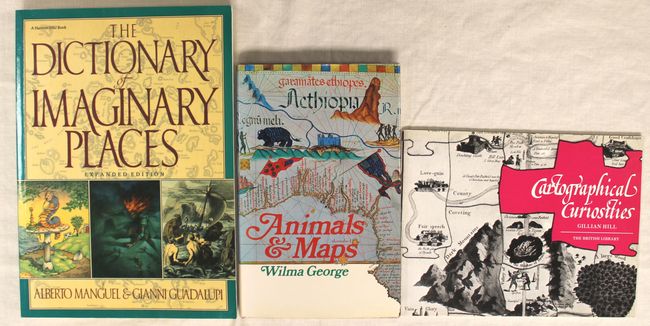 Subject: References
Period: 1969-87 (published)
Publication:
Color: Black & White
Size:
See Description
A. The Dictionary of Imaginary Places Expanded Edition, by Alberto Manguel and Gianni Guadalupi, published 1987 (8.6 x 12.1"). This is the updated edition of this fascinating reference book that features over 1,200 entries detailing fictional and often fantastic locales. Homer, Swift, Carroll, Coleridge, Kafka, Verne, Calvino, and Tolkien are among the writers whose invented realms are explored. The book includes over 200 illustrations, many of them maps of the lands discussed, including Robinson Crusoe's Island, Oz and its surroundings, and Narnia. Paperback, 454 pp., with an index. Condition: Contents fine with some minor wear to the exterior. The bottom corner of the back cover and later pages are slightly bent.

B. Animals & Maps, by Wilma George, published 1969 (6.3 x 9.8"). First edition of this book that shows that cartographers had a sound knowledge of the animals and their distribution on the various continents. Ristow says that George "...argues convincingly that the mapmakers knew what they were about and that Renaissance and later maps provide much useful source material on contemporary natural history." Another reference says that the book "...seeks to support the thesis that animals portrayed on ancient maps are zoogeographically [sic] significant." Hardbound with a dust jacket, octavo, 235 pp., ten page bibliography, index. Profusely illustrated in black and white. An unusual cartographic reference book with an interesting thesis that is a useful read for all map collectors. Condition: Internally clean with minor soiling on the covers and light wear to the dust jacket.

C. Cartographical Curiosities, by Gillian Hill, published 1978 (9.7 x 7.4"). This reference book corresponds to the British Library Map Library's 1978 exhibition of the same title. It discusses unusual and outlandish maps, including satirical maps, geographical misconceptions, invented lands, and maps with a symbolic shape. Features numerous illustrations. Paperback, 63 pp., with a complete list of the exhibits at the end. Condition: Contents and covers fine with a price sticker on the back cover.
References:
Condition: A
See description above.