"[2 Volumes - Facsimile] A Voyage Round the World, Performed in the Years 1785, 1786, 1787, and 1788, by the Boussole and Astrolabe...", La Perouse, Comte Jean F. Galoup, de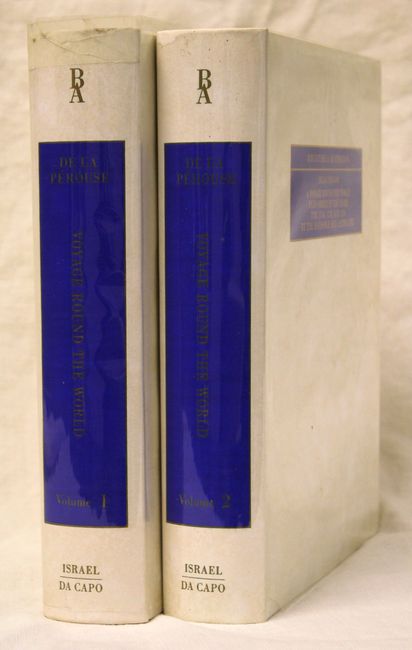 Subject: Exploration and Surveys
Period: 1968 (published)
Publication:
Color: Black & White
Size:
8 x 10.2 inches
20.3 x 25.9 cm
Jean-Francois de Galoup, Comte de La Perouse commanded a French scientific expedition to the Pacific in 1785-88. Recognized as one the foremost naval commanders and navigators in France, he was selected by King Louis XVI to complete Captain James Cook's exploration of the western Pacific. The British Admiralty provided scientific equipment to measure variations in magnetic compass readings and with the latest instruments for determining longitude. La Perouse explored the coasts of the Gulf of Alaska and northwestern North America in search of the fabled Northwest Passage. After leaving America his expedition continued on to Asia where he explored from Macao to Kamchatka and the Solomon Islands in the South Pacific. La Perouse was meticulous in sending copies of his extensive logs, maps and surveying information via other ships as well as overland. La Perouse's last contact was in the spring of 1788 with a British ship in Botany Bay, Australia. The expedition was never heard from again. Considered one of the greatest French voyages, the French Government decided to publish the story of the expedition when it became clear they had been lost. An English edition was published in London.
This is a facsimile of the account of Jean-Francois de Galoup, Comte de La Perouse's ill-fated journey around the world originally published in English translation in 1799. La Perouse was appointed by Louis XVI in 1785 to embark on a voyage that would finish the work that Captain Cook began in the Pacific, chart new routes, create economic opportunities, and add to France's store of scientific knowledge. His ships, the Astrolabe and the Boussole, left Brest on August 1, 1785 and traveled the Pacific, stopping in Hawaii, Alaska, California, Japan, and many other locations, until finally arriving in Botany Bay, Australia in January 1788. His expedition vanished shortly after leaving the bay that March. The first volume of this set includes an introduction, an extensive roster of the crew, "private instructions" from Louis XIV to La Perouse, notes on previous explorations, and an account of the voyage from its beginning to May 1787. The second volume continues until the conclusion of La Perouse's journal in January 1788 and includes various tables detailing the route as well as additional observations on the geography and natives of the lands explored. The set's two volumes form entry #27 and #28 in Nico Israel and Da Capo Press' 75 volume Bibliotheca Australiana series. Hardbound in simulated vellum featuring blue title plates on cover and spine with gilt lettering.
References:
Condition: A
Contents fine with just minor soiling on the cover and sheet's edges.