"A Map of the New Governments, of East & West Florida", Gibson, John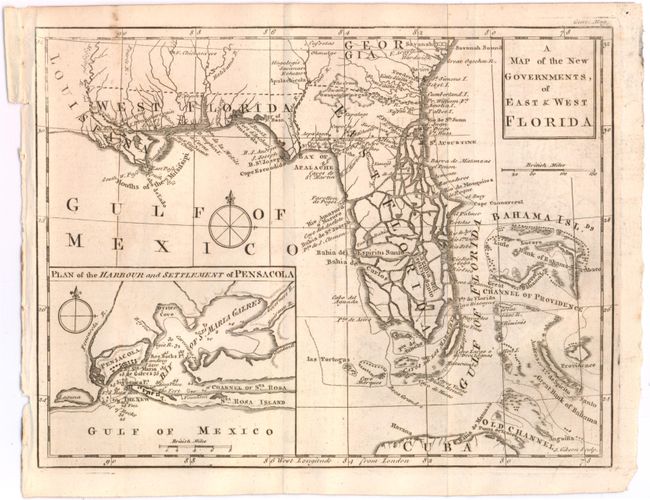 Subject: Colonial South, Florida
Period: 1763 (published)
Publication: Gentleman's Magazine
Color: Black & White
Size:
9.8 x 7.5 inches
24.9 x 19.1 cm
East and West Florida underwent several boundary and sovereignty changes during its history. The two regions were established in 1763 by the British colonial government out of land taken from France and Spain after the French and Indian War. Reasoning the newly acquired territory too large to govern, the British divided it into two new colonies separated by the Apalachicola River. West Florida was based in Pensacola, and the colony included the part of formerly Spanish Florida west of the Apalachicola, plus the parts of French Louisiana taken by the British. Its northern boundary shifted several times over the years. East Florida has as its capital St. Augustine, which had been the capital of Spanish Florida. Both remained loyal to the British crown during the Revolutionary War, and served as havens for Tories fleeing the Thirteen Colonies. In 1781 Spain invaded West Florida and captured Pensacola, leading Britain to cede both to Spain following the war. The ill defined boundaries led to a series of border disputes between Spain and the nascent United States known as the West Florida Controversy. Disagreements with the Spanish government led settlers along the gulf coast to declare the area the independent Republic of West Florida in 1810. The area was soon annexed by the United States, claiming the region as part of the Louisiana Purchase. The remainder of West Florida and all of East Florida were purchased by the United States in 1819 under the terms of the Adams–Onís Treaty. Florida Territory was formed as a result.
This map was published in November 1763 just a few weeks after the British acquisition of Florida at the conclusion of the French and Indian War. The region was divided into two British provinces, East and West Florida. The division was along the Apalachicola River, the boundary line for the Royal Proclamation of 1763 that extended from the Ohio River to Florida along the watershed of the Appalachian and Allegheny Mountains. The Proclamation was designed to reduce confrontation between Indians and colonists by outlawing English settlement west of the line. East Florida encompassed primarily the Florida peninsula; West Florida included the Gulf Coast region from the Apalachicola River to the Mississippi River south of 31° of latitude. The map locates many settlements, swamps, and rivers. Southern Florida is split by many waterways, giving the appearance that it's made up of numerous small islands. A large inset, Plan of the Harbour and Settlement of Pensacola, provides good detail of the Bay of Sta. Maria Galres (now Pensacola Bay) complete with soundings and a compass rose.
References: Cumming (SE) #336; Jolly #GENT-171.
Condition: B+
Issued folding with light soiling and a minor crease adjacent to one of the folds.