Melish's Greatest Published Work
"Map of Pennsylvania, Constructed from the County Surveys Authorized by the State; and other Original Documents...Corrected & Improved to 1826", Melish, John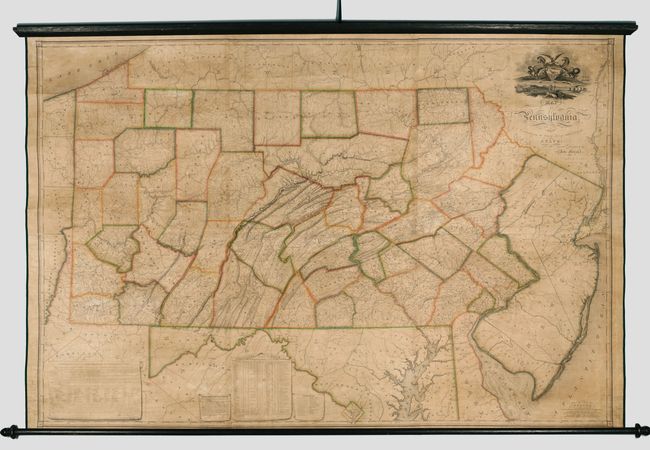 Subject: Pennsylvania
Period: 1826 (dated)
Publication:
Color: Hand Color
Size:
73.5 x 42.5 inches
186.7 x 108 cm
Although not the first map showing the full extent of Pennsylvania (which was created by Reading Howell circa 1792), John Melish's map is arguably the most important early map of the Keystone state. Melish was an experienced, skilled and energetic American cartographer, and received more official support and direction in his mapping of the state than his predecessor. In addition, Melish teamed up with engraver Benjamin Tanner, one of the foremost American engravers of the early 19th century, to prepare the plates for his map.

Melish was a strong believer in state financed cartography, asserting that individuals would not have the necessary resources or finances to properly maintain state maps, and that state maps, therefore should be the official responsibility of the state. His comments were transmitted to influential legislators in Pennsylvania, who passed an act in 1816 "Directing the Formation of a Map of Pennsylvania" and subsequently hired Melish to publish the map. The surveyor general contracted with deputy surveyors to provide accurate maps of each county, which were then collected and sent to Melish for compilation into the state map. The map was finally ready for publication in 1822 after Melish and his assistants spent six years compiling the map, and Tanner spent another fifteen months engraving the plates. The map was printed on six sheets, colored, available in several formats and mountings, and ranged in price from $9.00 to $12.50.

Although Melish died on December 30, 1822, the state later issued revised versions of the map in 1824, 1826 and 1832. This map, with corrections to 1826, depicts the counties on a scale of 5 miles per inch, as prescribed by the state legislature. Township boundaries, towns and cities, churches, roads, bridges, and grist mills are all depicted. The map extends to include New Jersey, Delaware, Maryland and Washington, D.C., but with less detail. At bottom are tables with the names of the surveyors who supplied each county map and statistical information on each county, as well as geological remarks and a legend. The title is surmounted by the Pennsylvania coat of arms.

Printed on six sheets, joined as issued. Backed with linen with wooden rollers attached and a ribbon tie closure.
References: Ristow (Amer M&M) pp.110-115.
Condition: A
Beautifully and professionally conserved and rebacked with modern linen with new green cloth selvage protecting the edges. Original outline color with minor refreshing. Lightly toned with very minor cracking along the edges and a few tiny areas of loss, with some replaced in facsimile. There are a few short cracks in the map image that have been professionally repaired. Overall an excellent example of this magnificent work.