"[Lot of 3 - Cartographic References]",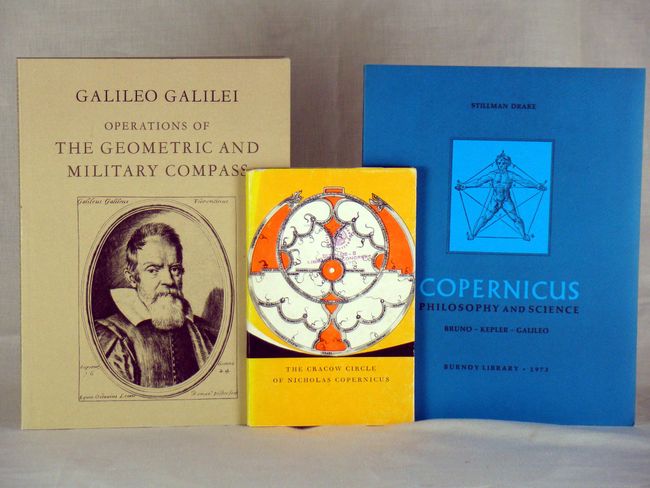 Subject: Reference Books
Period: 1973-78 (published)
Publication:
Color: Black & White
Size:
See Description
A. Galileo Galilei. Operations of the Geometric and Military Compass 1606. by Smithsonian Institution Press, 1978, (8 x 11"). Facsimile edition and translated into English, with an Introduction by Stillman Drake. The term "compass" as used by Galileo is the equivalent of the English term "sector", a folding set of mathematical scales used for complex calculations that solved many basic military problems. 95 pp. with many illustrations. Paperbound in fine condition. (A+)

B. Copernicus: Philosophy & Science: Bruno-Kepler-Galileo by Stillman Drake, 1973, (8.3 x 10.8"). This book was published in 1973, the 500th anniversary of the birth of Nicolas Copernicus. It shows how the great scientists Bruno, Kepler & Galileo built on the foundation laid by Copernicus. 31 pp. with a number of black & white illustrations. Paperback with heavy blue pictorial cardstock wrappers. Excellent condition. (A)

C. The Cracow Circle of Nicolas Copernicus by Józef Gierowski (editor), Polish Science Publishers, 1973, (5 x 8"). Translated from Polish to English, it contains biographies of five Cracow scholars whose influence on, or relationship with, Copernicus was significant. 118 pp. with illustrations. Paperback with dust jacket. Condition - contents are tight and clean with slight wear on the dust cover. Stamped on cover as surplus from Library of Congress. (B+)
References:
Condition:
See descriptions.