"[Lot of 13 - Exhibition Catalogs]",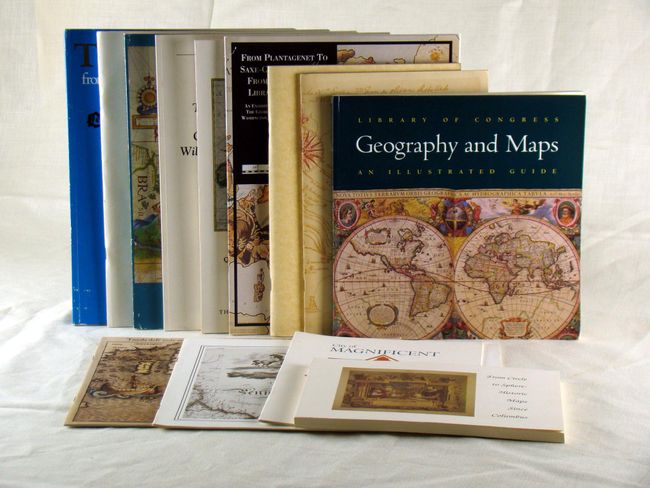 Subject: Reference Books
Period: 1961-96 (published)
Publication:
Color: Printed Color
Size:
8.5 x 11 inches
21.6 x 27.9 cm
There are nearly 1,000 pages and hundreds of illustrations included in this great selection of exhibition catalogs: A. From Circle to Sphere: Historic Maps Since Columbus, Princeton University Library, 1992.
B. City of Magnificent Distances: The Nations Capital, Library of Congress Exhibit, 1992.
C. Texas in Maps, James P. Bryan & Walter K. Hanak, Project for a Texas Quarterly Feature, 1961.
D. Changing Perceptions: Mapping the Shape of Florida, 1502-1982., A special exhibition at the Historical Museum of Southern Florida September 22 - November 18, 1984.
E. From Plantagenet to Saxe-Coburg: Maps from the Fiat Lux Library, 1482-1899 , An Exhibition at the Gelman Library - George Washington University, May 22 - July 28, 1995.
F. Geography and Maps: An Illustrated Guide., Library of Congress, 1996.
G. William P. Cumming Map Collection At Davidson College, E. H. Little Library, 1993.
H. Quest for the Indies: Routes of Exploration, Historical Museum of Southern Florida, 1992.
I. Pennsylvania on Paper: an exhibition at the Historical Society of Pennsylvania. , 1977.
J. Treasures of the College of William and Mary Library , Haskell and Cook, 1988.
K. Maps and the Columbian Encounter: An Interpretive Guide to the Traveling Exhibition., J.B. Harley, 1990.
L. Portraits of the World: An Exhibition of World Maps from the Period of the Great Discoveries, Sheldon Memorial Art Gallery, 1981.
M. Treasures from the New York Public Library , New York Public Library, 1985.
References:
Condition:
Condition ranges from B+ to A+ with a majority being very good or better. Dimensions represent the largest item (8.5 x 11").