"[Lot of 3 - Cartographic References]",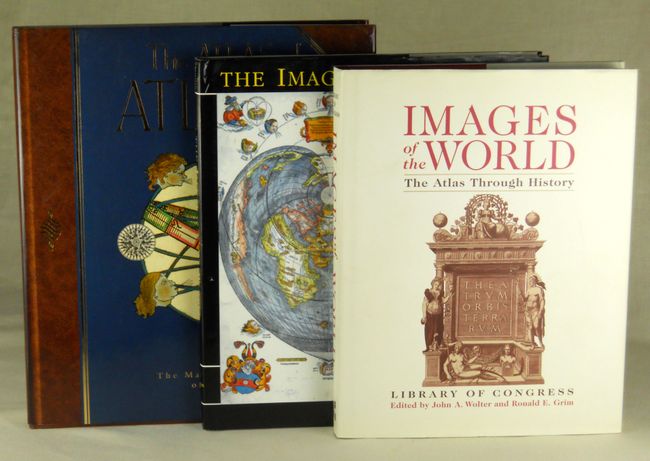 Subject: Reference Books
Period: 1992-97 (published)
Publication:
Color:
Size:
See Description
A) Images of the World - The Atlas through History. Wolter, John A and Ronald E. Grim (Editors). Washington: Library of Congress, 1997. 9" x 11.3". xiv, 466 pages and 196 illustrations. Red cloth hardcover with gilt spine lettering, illustrated dust jacket. Copyright 1997 by McGraw-Hill. Consists of four major parts: (1) Early Manuscript and Printed Atlases, (2) Atlases of the Sixteenth to Eighteenth Centuries, (3) Atlases of the Late Eighteenth and Nineteenth Centuries, and (4)Atlases of the Late Nineteenth and Twentieth Centuries: The Future of Atlases. Plus brief biographies of the 17 contributors and a 6-page Selected Bibliography. Minor crease on back of dust jacket. Cover and contents excellent. (A)

B) The Image of the World: 20 Centuries of World Maps. Whitfield, Peter. San Francisco: Pomegranate Books in association with the British Library, 1994. First U.S. edition. iii, 144 pages. Black cloth hardcover with gilt spine lettering; dj. Numerous world maps, most in color, plus world maps on title page: World Map of Antonio Sanchez, 1623; front endpapers: Ptolemaic World Map, 2nd century AD, republished 1486; rear endpapers: Dynamic Planet World Map, USGS 1989; front of dj: Peter Apian's heart map, 1580; and back of dj: Antonio Salibas cosmological chart, 1582. Contents include maps related to Classical Foundations, The Religious Imagination, The Play of Intellect, The Theatre of the World, and Science and Communication. Pictorial dust jacket. Like new. (A+)

C) The Atlas of Atlases: The Map Maker's Vision of the World. Allen, Phillip, New York: Henry N. Abrams, 1992. 12"h x 10 ½"w. Dust jacket. 160 pages. "In more than 300 full-color illustrations, The Atlas of Atlases reproduces some of the most stunning and important maps from five centuries of atlases, accompanied by insightful commentaries." Minor wear to dust jacket. (A)
References:
Condition:
See descriptions.