"[Lot of 2 Cartographic References] Maps of the Holy Land… [and] The Holy Land in Ancient Maps with Reproductions…",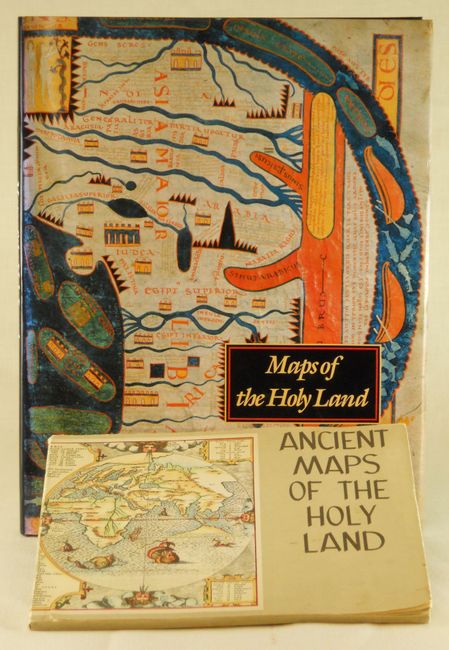 Subject: Reference Books - Holy Land
Period: 1965-86 (published)
Publication:
Color:
Size:
See Description
1) Maps of the Holy Land Images of Terra Sancta through Two Millenia, Kenneth Nebenzahl, Abbeville Press, New York, 1986. This book includes the most historically significant and beautiful Holy Land maps, including rare treasures of manuscript illumination and masterpieces of early printing. Lavishly illustrated with approximately 80 colored maps, many of which are double-page and triple-page foldouts. The author, a recognized authority on antique maps, presents maps from European, Byzantine, Arabic and Persian sources, each finely reprinted with useful descriptions. This important contribution, based on many years of research, is a pleasure to read. 164 pp. Hardbound (12" x 15.5") in black embossed cloth with dust jacket in protective sleeve. As new. (A+)

2) The Holy Land in Ancient Maps with Reproductions of Twenty-Seven Maps and Views of the Country, The Universitas Booksellers of Jerusalem (Israel). Jerusalem: ATIKA, 1965. 8"h x 10 ½"w. World map on wrappers. Cover title: Ancient Maps of the Holy Land. 3rd enlarged edition. (The first edition, 1956, had 8 maps.) 32 pages. 27 maps illustrated; many in color. Descriptions in English and Hebrew. Printed on 21" wide paper and folded at the outer edge to create unprinted pages between pages with text and maps. Introduction by Herrmann M. Z. Meyer. Rear wrapper partially loosened from body and slight soiling on front cover. (B+)
References:
Condition:
See individual descriptions.