"[Lot of 5 - Cartographic References]",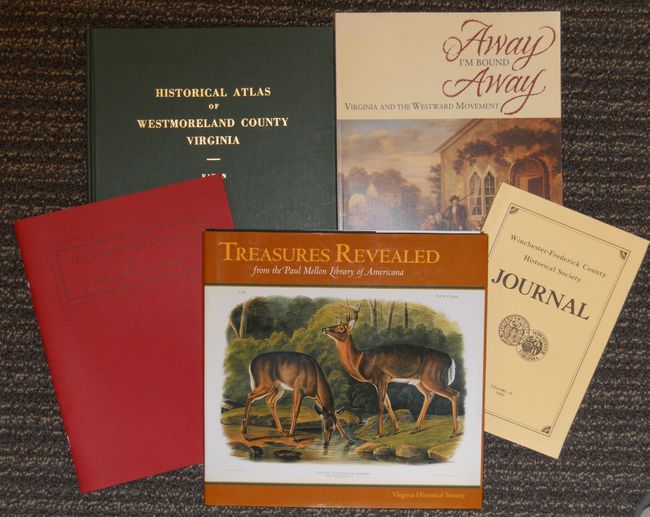 Subject: Reference Books - Virginia
Period: 1943-2001 (published)
Publication:
Color:
Size:
See Description
1. Away I'm Bound Away: Virginia and the Westward Movement. David Hackett Fischer and James C. Kelly. Richmond: Virginia Historical Society, 1993. 8.5" x 12". A catalog of an exhibition at the Virginia Historical Society, Richmond, October 6, 1993-May31, 1994 supported by a generous grant from the National Endowment for the Humanities. 200 rare and historical items are described and illustrated. The catalog is preceded by 136 pages of related and illustrated articles setting the stage for the exhibit. Pictorial paper wraps, 273 pages. New condition. (A+)

2. Treasures Revealed from the Paul Mellon Library of Americana. Strom, Robert F. (Intro). 2001.Charlottesville: Virginia Historical Society, 2001, 10.3" x 10.3". 102 items illustrated in color and described. Introduction by Robert F. Strom, Associate Director of the Virginia Historical Society. Paul Mellon, one of America's greatest patrons of the arts, amassed of a collection of rare books, maps, manuscripts, and drawings relating to the history of the Americas and of Virginia in particular. The exhibition presents for the first time more than 100 form this extraordinary collection. Hardbound in black cloth with gilt titling, 232 pages. New Condition. (A+)

3. Winchester- County Historical Frederick County Historical Society Journal. Volume IV 1989, printed by Commercial Press, Inc., Stevens City, Virginia, 6" x 9". Illustrated. Contains three articles including "The 'Discovery' of the Hotchkiss Maps and Papers" by Peter W. Roper. Cream colored paper covers, 114pp. (A+)

4. The Events of my Life: An Autobiographical Sketch by John Marshall., John Marshall, First Edition 2001, jointly published by Clements Library, University of Michigan and Supreme Court Historical Society, 8" x 10.5". Introduction by William Rehnquist, then Chief Justice of the United States. Edited by Lee C. Bollinger and John C. Dann. A 30-page monograph written in 1827 by the first Chief Justice of the U.S. Supreme Court (also a soldier, lawyer, politician and author, e.g., The Life of Washington). Red cloth covers, 30pp. (A+)

5. Historical Atlas of Westmoreland County Virginia David W. Eaton, The Dietz Press, Richmond, VA, 1942, 9.5" x 12.5". Text and numerous b&w maps describe how lands were patented from the Crown and proprietors of the northern neck of Virginia. Includes history of some early patent holders, surveyors, Indians and more. Quarto, 79pp. Hardbound in green cloth with gilt title on spine and cover, no dust jacket. (A+)
References:
Condition:
See descriptions.