"[Lot of 3 - Cartographic References]",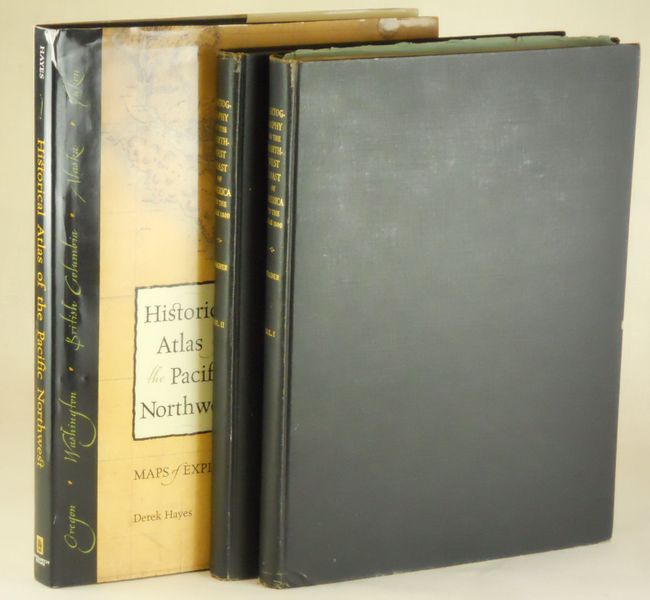 Subject: Reference Books - Pacific Northwest
Period: 1937-99 (published)
Publication:
Color:
Size:
See Description
1 & 2) The Cartography of the Northwest Coast of America to the Year 1800, Volume I and Volume II, Henry R. Wagner, Berkeley: University of California Press, 1937. 13"h x 9"w. 2 volumes. No slip case. Vol. I is illustrated with facsimiles of 40 antique maps plus one modern map. Vol. II contains a descriptive list of more than 900 maps. This is a continuous account with the aid of critical lists of maps and place names showing the evolution of cartography of the northwest coast of America to the year 1800. Ref: Howes W-7. Bookplate on front pastedown of Volume I. Volume I dust jacket worn and split and enclosed in back of book, no dust jacket for Volume II. Contents tight and clean, binding corners and spines bumped or abraded. (B+)

3) Historical Atlas of the Pacific Northwest: Maps of Exploration and Discovery. British Columbia, Washington, Oregon, Alaska, Yukon, Derek Hayes, Seattle: Sasquatch Books, 1999. 10"w x 13"h. 208 pages. 322 maps illustrated. Map Catalog in rear gives map titles and sources. Hard cover. Book is in new condition, less short tear to dust jacket. (A)
References:
Condition:
See individual descriptions.