One of the most important American maps of the latter part of the eighteenth century
"A Chart of North and South America, Including the Atlantic and Pacific Oceans, with the Nearest Coasts of Europe, Africa, and Asia", Jefferys/Sayer & Bennett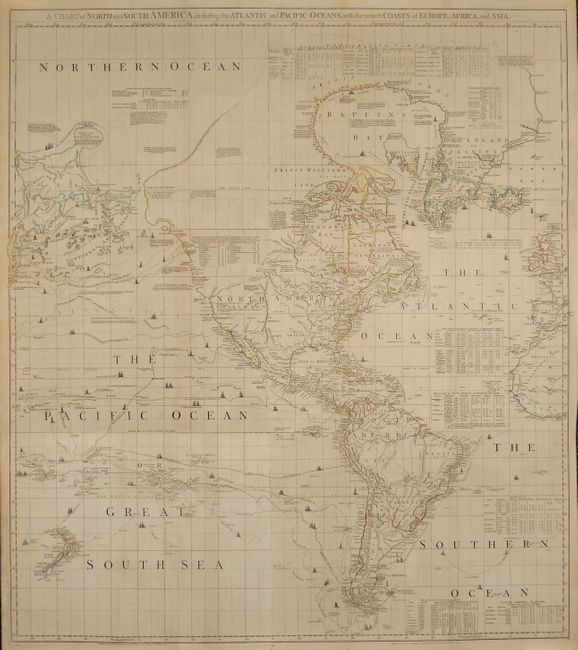 Subject: Western Hemisphere - America
Period: 1775 (dated)
Publication: The America Atlas
Color: Hand Color
Size:
43.5 x 50.5 inches
110.5 x 128.3 cm
This important American map was compiled in 1753 by Braddock Meade, one of the most intriguing figures in British cartographic history as well as an extremely gifted mapmaker. Working under the alias John Green after serving time for defrauding an Irish heiress, he compiled many of Thomas Jefferys' most important maps. It was partly designed to expose the errors in Delisle and Buache's map of the Pacific Northwest. It was the first map to label Behring's Straits and includes a plethora of information on explorers and their discoveries. Of particular interest are the tables of charts that show the variations in latitude and longitude between this chart and those of Bellin, D'Anville, Moll and Senex. There are numerous notations throughout the map that present a fascinating view of the state of geographic knowledge of the period. Several indignant notes on the Pacific Northwest include, "These parts, as yet wholly unknown are filled up, by Messrs Buache and Delisle with the pretended discoveries of Adm. de Fonte and his Captains in 1640." It also includes numerous notations concerning Russian explorations and presents a bulbous shaped Peninsula of the Tchuktschi whose Extent and Dimensions are unknown…. This final edition includes a number of updates not present in the earlier editions, including the track of Lt. Sindo in 1764-67 and revisions in the Anadirskiai Islands where Alaska appears as a large island labeled Alaschka. Six sheets, joined to form a spectacular wall map.

Jefferys was the leading English cartographer of the 18th century, serving as both Geographer to the Prince of Wales, and later, Geographer to the King, he had access to the best surveys conducted in America. He published a series of maps of the American colonies that were among the most significant produced in the period, including the Fry/Jefferson map of Virginia, Braddock Meade's map of New England, and William Scull's map of Pennsylvania and the western frontier. His successors, Sayer and Bennett, gathered these separately-issued maps together and republished them as The American Atlas. "It was, very likely, consulted by American, English, and French civilian administrators and military officers during the Revolution." (Ristow)
References: Ristow pp. 31-32; Stevens & Tree #4e; Wagner (NW) #578 & p. 160 (1st ed.).
Condition: A+
A superb example with original outline color and some expert minor repairs in the blank margins.