"[Lot of 3 - Terrestrial Globes]",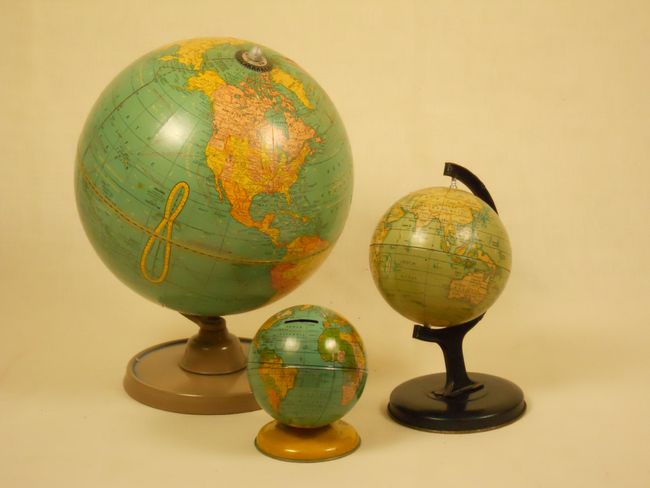 Subject: Globes
Period: 1933-50 (circa)
Publication:
Color: Printed Color
Size:
12 x 12 inches
30.5 x 30.5 cm
1. Cram's Universal Terrestrial Globe 9 Inch, 12" tall, circa 1950. Fine terrestrial desk globe constructed with 12 lithograph, coated paper gores over pasteboard. Raised on an offset central axis mounted on a single short, angled metal pillar held by a beige round metal stand and hour dial at north pole. The oceans are finished in turquoise with the locations of the Prime Meridian and the International Date Line shown. The names and direction of the currents of all the oceans and seas are in white. Shows Indochina, Manchuria, and Pakistan (overprinted in red in the western portion of India). Israel is vaguely identified, Korea is still unified, and Indonesia, who gained her independence in late 1949, is still shown as part of the Netherlands. The Sargasso Sea is prominently displayed in the middle of the Atlantic Ocean, and an analemma is located in the South Pacific. Notations at the north and south poles state the years and methods of travel for individuals who first explored those regions. The simple title cartouche is located in the Indian Ocean. Near fine condition with just a little unevenness in a few gores. (A)

2. [4.5" Terrestrial Globe], 8" tall, circa 1933-34. Tin desk globe with printed color surface, with half meridian ring atop a brown circular metal base. Iran is still Persia. This globe is probably from the "Reliable Series" made in England. Lower ring of base with slight rust, and globe surface has slight marks. (B+)

3. [3.5" Terrestrial Globe], 4.5" tall, J. Chein, circa 1935. This tin bank globe may be opened at the equator to gain access to the coins. Iran is still named Persia. With faux wood metal base titled Bank Globe. A little soiling to surface, still very good. (A)
References:
Condition:
See individual descriptions.