"A Correct Map of the Georgia Western Territory", Morse, Jedidiah (Rev.)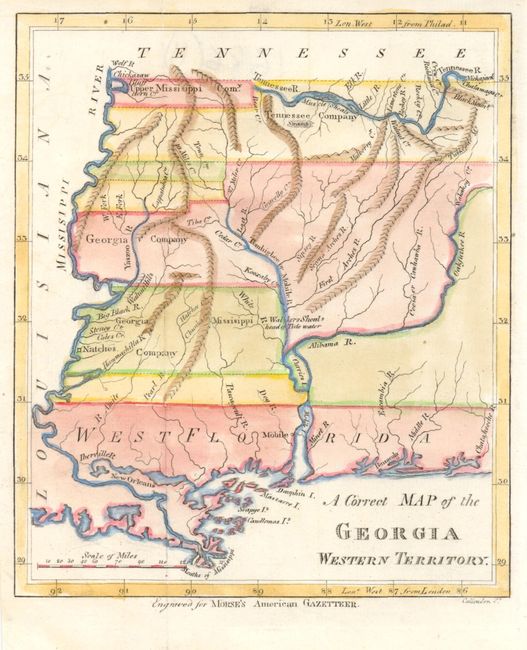 Subject: Southern United States
Period: 1797 (published)
Publication: Morse's American Gazetteer
Color: Hand Color
Size:
6 x 7 inches
15.2 x 17.8 cm
East and West Florida underwent several boundary and sovereignty changes during its history. The two regions were established in 1763 by the British colonial government out of land taken from France and Spain after the French and Indian War. Reasoning the newly acquired territory too large to govern, the British divided it into two new colonies separated by the Apalachicola River. West Florida was based in Pensacola, and the colony included the part of formerly Spanish Florida west of the Apalachicola, plus the parts of French Louisiana taken by the British. Its northern boundary shifted several times over the years. East Florida has as its capital St. Augustine, which had been the capital of Spanish Florida. Both remained loyal to the British crown during the Revolutionary War, and served as havens for Tories fleeing the Thirteen Colonies. In 1781 Spain invaded West Florida and captured Pensacola, leading Britain to cede both to Spain following the war. The ill defined boundaries led to a series of border disputes between Spain and the nascent United States known as the West Florida Controversy. Disagreements with the Spanish government led settlers along the gulf coast to declare the area the independent Republic of West Florida in 1810. The area was soon annexed by the United States, claiming the region as part of the Louisiana Purchase. The remainder of West Florida and all of East Florida were purchased by the United States in 1819 under the terms of the Adams–Onís Treaty. Florida Territory was formed as a result.
An interesting, and historical map that covers the region that would become Mississippi and Alabama. There is good information on the watershed and some topography is shown. Many rivers are named, but only four towns: New Orleans, Natches, Mobile and Pensacola. Along the Mississippi River are lands of the Upper Mississippi Company and the Georgia Company, and to the east is the Tennessee Company. These lands were a part of the infamous Yazoo Land Fraud. In 1795 the governor of Georgia, George Mathews, signed a bill that agreed to sell almost 40 million acres to speculators in the Yazoo Land Act. This corrupt land deal led to the downfall of many popular politicians. President George Washington, speaking about Yazoo said "These acts embrace an object of such magnitude and in their consequences may so deeply affect the peace and welfare of the United States..." Read more about this early scandal here.
References: Wheat & Brun #618.
Condition: A+
Fine example with strong impression, full hand color and original margins. Professionally closed short split.