"The North-West Coast of North America and adjacent Territories…", Burr, David H.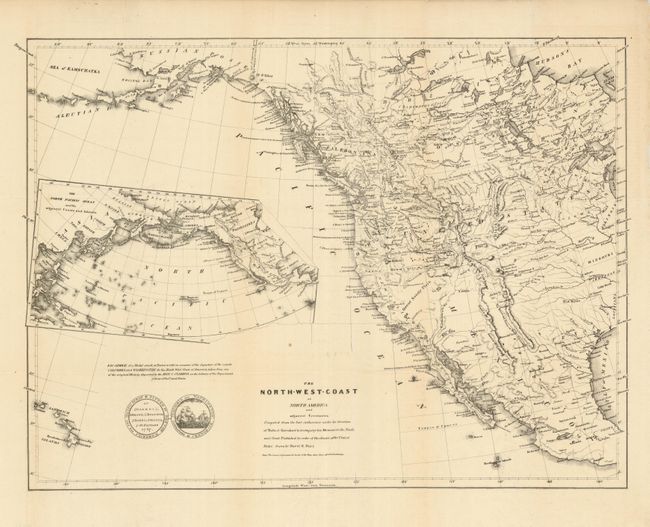 Subject: Western United States and Canada
Period: 1840 (published)
Publication: Greenhow's Memoir of the North West Coast
Color: Black & White
Size:
21.3 x 16 inches
54.1 x 40.6 cm
David H. Burr was a tremendously important figure in the mapping of the United States. He began his career surveying in New York in 1829. Beginning in 1833 he served as topographer of the United States Post Office, then Geographer for the House of Representatives, surveyor to the states of Florida and Louisiana, Geographer to the U.S. Senate and finally as Surveyor General of Utah Territory during the legal and jurisdictional disputes between Mormon leaders and the U.S. government.

When in 1836 David left as Topographer to the Post Office, his brother Henry A. Burr took over the position. Henry retained this title until his death in 1863. His cartographic output did not match his brother's, but he is known to have made the map "Disturnell's New Map of the United States and Canada Showing All the Canals, Rail Roads, Telegraph Lines and Principal Stage Routes" in the early 1850s.
Greenhow was the translator and librarian to the Department of State, a leading authority on the Northwest and a strong advocate for American growth into that region. This map, despite the title, includes virtually all of the trans-Mississippi west. It extends from Russian Possessions in Alaska, south to Acapulco, Mexico, east to Lake Michigan and west into the Pacific to include the Sandwich Islands. The Independent Republic of Texas shows S. Antonio de Bexar, Austin and names Ft. Alamo, which is rarely called out on maps, including other editions of this map. Other editions show Washington as the capital of Texas, but the town is not on this issue. Pre-Fremont geography is depicted in the West with the Great Basin labeled as the Great Sandy Plain with the Buenaventura R. originating in the Swamp Lake and islands. The Snowy Mountains run east to west. The U.S. - Canadian boundary is not clearly defined, reflecting Greenhow's advocacy of American claims in the area, perhaps extending far in to the New Caledonia area of British Columbia. Locates Ashley's Lake and the Lost and Inconstant Rivers. The Buenaventura River flows into the Swamp Lakes & Is., with the Sacramento River flowing from it. With a large inset showing the North Pacific Ocean. Today's British Columbia is New Caledonia. A vignette shows the front and back of a medal struck at Boston in 1787 to commemorate the departure of ships Columbia and Washington for an early exploration by the U.S. to the Pacific Northwest. Drawn by David H. Burr, this map was also published as Sen. Doc. 174, 26th. Cong, 1st Sess.
References: Phillips (M) p. 603; Wheat [TMW] #447.
Condition: A
A fine example except for a few very tiny spots and some lazy creases.