"A Map of North America Denoting the Boundaries of the Yearly Meetings of Friends and the Locations of the Various Indian Tribes", Religious Society of Friends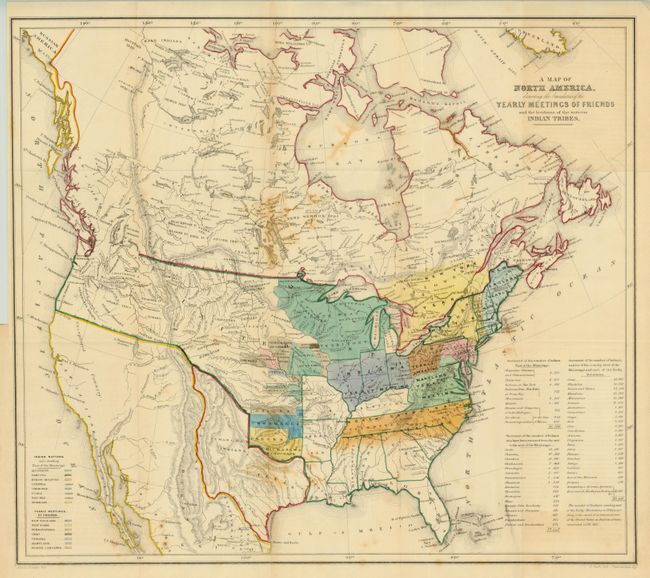 Subject: North America
Period: 1844 (published)
Publication:
Color: Hand Color
Size:
21 x 18.3 inches
53.3 x 46.5 cm
The United States and Great Britain established in 1818 joint claim over the Oregon Territory - the region north of Spanish controlled Upper California up to the southern boundary of Russia's Alaska Territory at North latitude 54°40'. By the late 1830's this arrangement was beginning to fall apart. In the 1840's the expansionist Democrats, including their 1844 presidential candidate, James Polk, claimed the entire region for the United States. Their expansionist desires were expressed by Polk's famous campaign slogan, "Fifty-four Forty or Fight!" The slogan also became a rally cry for Americans desiring to settle the territory. Following Polk's election, the dispute was resolved by the 1846 Treaty of Oregon, which struck a compromise that fixed the U.S./Canadian boundary at 49º North.
Very unusual map put forth by the Religious Society of Friends, or Quakers as they are more commonly known. This map was included in the book Some Account of the Conduct of the Religious Society of Friends Towards the Indian Tribes. . ., that was published for meetings held by the Quakers called Aborigines' Committee of the Meeting of the Sufferings. The Quakers held these meetings annually and they focused on the wrongs suffered by aboriginal peoples all over the world. This meeting was held in London in 1844. The map shows the United States all the way to the West Coast with a great Republic of Texas reaching into present-day Colorado. The United States has no claims to the Southwest yet, and the northwest border with Canada and the U.S. has been left undefined due to the unsettled claims in that region commonly referred to as the Fifty-Four Forty or Fight dispute. The extent of immigration and developed territories is confined to east of the Mississippi. The map names all the known tribes and their homelands are located with a color key at left. The legend notes that the Catawba, Uchee and Natchez Indians are extinct. A key shows the location of annual Friends meetings and a table at the right notes the number of tribal members of each tribe and also how many had, at that point, been moved from their homelands. This map was drawn by Jim Bowden and lithographed by H. Clark.
References:
Condition: B+
Folding as issued. On sound paper with excellent impression and color, but there are some areas of light staining from flower pressing, a popular activity in the 19th century.