"A New & Accurate Map of North America; Drawn from the most Authentic Modern Maps and Charts", Bowen, Thomas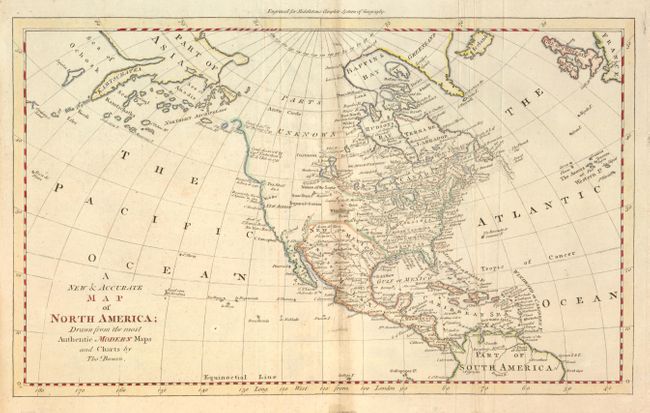 Subject: North America
Period: 1776 (circa)
Publication: Middleton's Complete System of Geography
Color: Hand Color
Size:
17 x 10.4 inches
43.2 x 26.4 cm
East and West Florida underwent several boundary and sovereignty changes during its history. The two regions were established in 1763 by the British colonial government out of land taken from France and Spain after the French and Indian War. Reasoning the newly acquired territory too large to govern, the British divided it into two new colonies separated by the Apalachicola River. West Florida was based in Pensacola, and the colony included the part of formerly Spanish Florida west of the Apalachicola, plus the parts of French Louisiana taken by the British. Its northern boundary shifted several times over the years. East Florida has as its capital St. Augustine, which had been the capital of Spanish Florida. Both remained loyal to the British crown during the Revolutionary War, and served as havens for Tories fleeing the Thirteen Colonies. In 1781 Spain invaded West Florida and captured Pensacola, leading Britain to cede both to Spain following the war. The ill defined boundaries led to a series of border disputes between Spain and the nascent United States known as the West Florida Controversy. Disagreements with the Spanish government led settlers along the gulf coast to declare the area the independent Republic of West Florida in 1810. The area was soon annexed by the United States, claiming the region as part of the Louisiana Purchase. The remainder of West Florida and all of East Florida were purchased by the United States in 1819 under the terms of the Adams–Onís Treaty. Florida Territory was formed as a result.
Map of North America that is particularly interesting for its depiction of the Pacific Northwest that is labeled Parts Unknown. Alaska is shown as the small island of Alaschka in the Northern Archipelago. The discoveries of Bering and Tschirikow (1741), Juan de Fuca (1592) and Martin d'Aguilar (1603) are noted along the Pacific coastline of North America. The mythical West Sea, north of New Albion, is shown as an open ended Strait of Juan De Fuca and is not delineated in the interior. The British colonies are shown with boundaries at the Mississippi River. Louisiana is wedged between the Mississippi and New Mexico, which incorporates Texas. East and West Florida are named. Indian tribes are noted throughout. In the Pacific the Hawaii Islands have yet to be discovered and a partial island is "Land seen by Mendana."
References:
Condition: B
A few extraneous folds or creases running parallel to centerfold, which has toning. Along centerfold two small interior tears have been closed on verso with paper repair. Full margins and fine impression.