"Botany Bay, in New South Wales. Lat: 34° 00' Sth. [on sheet with] Entrance of Endeavour River in New South Wales. Lat: 15° 26' Sth.", Cook, James (Capt.)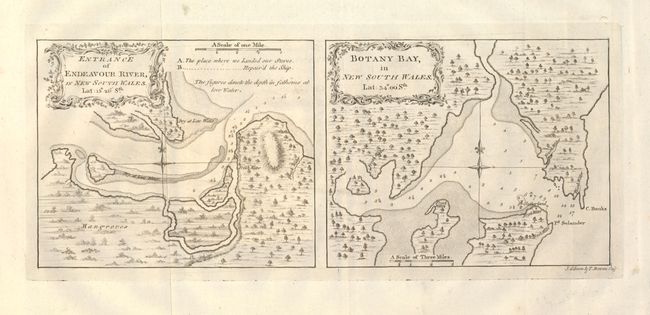 Subject: Sydney, Australia
Period: 1773 (published)
Publication: Account of the voyages undertaken by… Captain Cook…
Color: Black & White
Size:
13.2 x 5.3 inches
33.5 x 13.5 cm
Captain James Cook (1728-1779) is best known for his three voyages to the Pacific (1768-71; 1772-75; and 1776-79). His discoveries radically changed the western understanding of the world in the late 18th century. He was the first to circumnavigate and chart New Zealand and provided the earliest European accounts of exploration along the eastern coast of Australia and the Hawaiian Islands. On February 14th, 1779, he was killed on Hawaii after attempting to kidnap the chief of the island.

Many contemporary accounts of Cook's voyages, including charts and engravings, appeared in the late 18th century. The first official account of Cook's first voyage was published in 1773 by John Hawkesworth in Volumes II and III of An Account of the Voyages Undertaken by the Order of His Present Majesty for Making Discoveries in the Southern Hemisphere... William Strahan and Thomas Cadell published the first official accounts of the second and third voyages in 1777 and 1784. Accounts of his exploration were subsequently translated into French, German, and Dutch.
This rare plate contains two charts on one sheet. The first is the depiction of Sydney Harbor when Cook first landed in Australia on April 29, 1769. Six locations for fresh water are noted as are several soundings in the harbor with shoals are delineated. Locates C. Banks and Pt. Solander which were named by Cook for his botanists Joseph Banks and Daniel Solander.

The chart on the left shows entrance of the Endeavour River in northern Queensland. It locates the "place where we Landed our Stores" and the "place where we Repair'd the Ship." Cook departed Botany Bay continuing northwards where, on June 11, the Endeavour ran aground on a shoal of the Great Barrier Reef. The ship was badly damaged and his voyage was delayed for seven weeks while repairs were accomplished on the site marked on this map. This is near the town of Cooktown. After the repairs were completed the voyage continued and resulted in Cook claiming the entire eastern coastline of Australia on August 22 for England. The return trip to England was via Batavia, the Cape of Good Hope and the island of Saint Helena, finally arriving July 12, 1771. The two charts are within their own border (neatline) and are on a full sheet measuring 17" x 11.2".
References: Rumsey 3403.047
Condition: A
Beautiful impression with very wide margins. Near fine except for a couple small spots in margins.