"State of Florida", General Land Office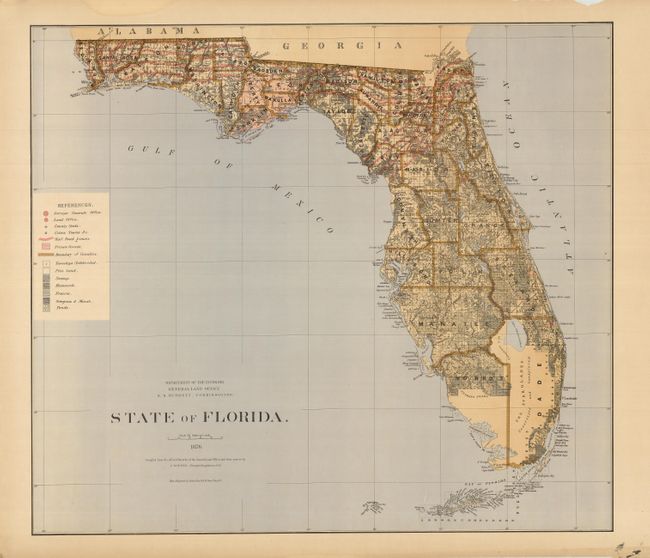 Subject: Florida
Period: 1876 (dated)
Publication: Geographical and Political Atlas of the States and Territories of the United S..
Color: Printed Color
Size:
27 x 23.8 inches
68.6 x 60.5 cm
This large and colorful state survey map is drawn on a scale of 20 miles to the inch. It shows the topography, vegetation, towns, cities, forts, rivers, lakes, swamps and many early railroads and roads throughout the state. The Burdett edition is unusual for the printed color and the separately issued, unfolded state. Color is used to show counties, Railroad limits, Private Grants, and County Boundaries. Most of the state is surveyed with scattered areas unsurveyed including the large Everglades area which is labeled "Unsurveyed and Unexplored." The key locates Private Grants, Pine lands, Swamps, Hammocks, Prairie, Sawgrass & Marsh and more. Map extends to show the keys to Dry Tortugas Island and Ft. Jefferson, and locates Ft. Lauderdale, Boca Rabones, Key Biscayne, scores of smaller keys and much, much more. This scarce edition was made under the direction of S.S. Burdett, Commissioner and drawn by C. Roeser, Principle Draughtsman.

A lawyer by trade, Burdett was appointed by President Grant as Commissioner of the General Land Office in 1874 serving until 1876 when he was replaced by J. A. Williamson who soon issued a nearly identical set of uncolored maps based on Burdett's output. Minor changes in map content are seen between some of the Burdett and Williamson map pairs, including changes to railway right-of-ways and minor county border updates. A close examination of this map and the Williamson version, also dated 1876, may suggest similar version changes.

The cartographic output of the GLO during Burdett's short tenure appears to be limited to his "Geographical and Political Atlas of the States and Territories of the United States of America in Which the Public Land Surveys are now in Operation" published in 1876 (the source of this map), and a large six-sheet map entitled "Map of the United States and territories showing the extent of public surveys, Indian and military reservations, land grant railroads, canals, and other details, compiled from the official surveys of the General Land Office, and other authentic sources, Under the direction of the Hon. S.S. Burdett, Commissioner," 1875. All maps produced under Burdett were drawn by Charles Roeser, who served as GLO mapmaker from about 1871 to 1882, after which he left to join the U. S. Postal Service where he produced Post Route Maps until the early 1890s. By comparison, Roeser's Burdett maps are quite rare with no recorded sales for the atlas and only a few recorded sales of its maps over the past several decades.
References:
Condition: A
The map image is very good with bright color and very wide margins. Unfolded, as issued. The margins have some foxing and toning with chipping along some edges and chipped corner at lower left.