"[Lot of 2] Early Maps [and] A Book of Old Maps",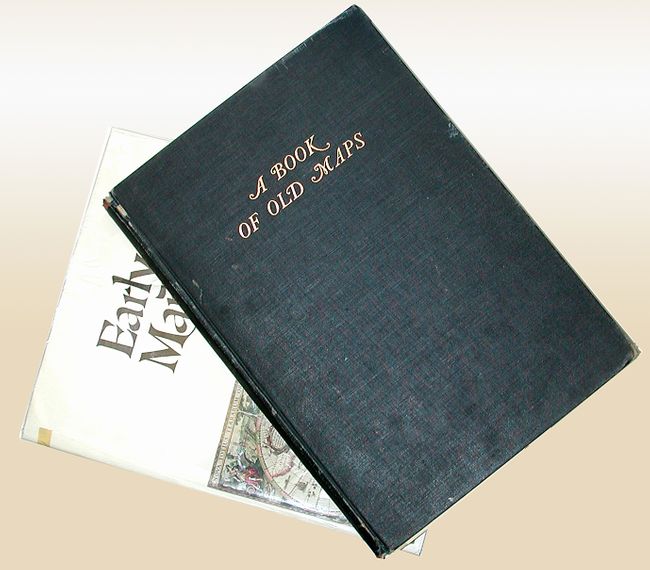 Subject: Reference Books
Period: 1926-81 (dated)
Publication:
Color:
Size:
See Description
1) Early Maps contains an array of early maps, municipal plans, and sea charts from the 13th century to the 1850's. Each plate is accompanied by information on the cartographer and an explanation of the political developments and geographical discoveries that influenced the map's design. Hardbound in green cloth with gilt letters on spine and illustrated original dust-wrapper with plastic cover. 148 pp., 68 color plates, several foldouts. Campbell, Tony, New York, 1981. (12.3 x 15.4") Folio. Near new condition with a small cello tape repair to jacket. (A).

2) A Book of Old Maps Delineating American History From the Earliest Days Down to the Close of the Revolutionary War compiled and edited by Emerson D. Fite & Archibald Freeman, Harvard University Press edition of 1927. An excellent study of American cartographic developments presented in 75 selected maps made between 1474 and 1825. These maps provide a unique view of an important stage in the growth of America. Each map has an accompanying essay describing its background and historical importance. Illustrated in b/w, 299 pp. Fite & Freeman, Cambridge, Harvard University Press, 1926. (B/W 11.5 x 16.5") Folio. Original hardbound in black cloth with gilt titling on front and spine. Text and images generally good, with usual toning. First signature coming unbound with endpaper loose but present. Covers lightly rubbed, corners bumped. Spine and hinges soft with some loss at extremities. (B).
References:
Condition:
See descriptions.