"[Lot of 2] The Western Quarterly Review Vol. I June 1827, No. 2 [and] …Vol. I July 1827, No. 3",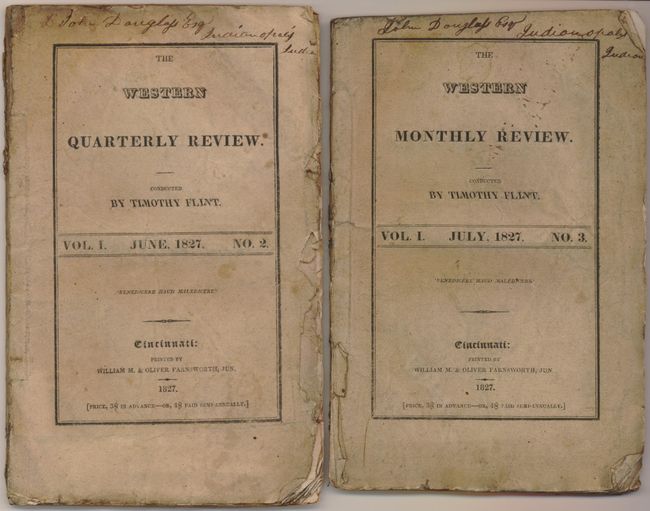 Subject: Texas - Fredonia Uprising
Period: 1827 (published)
Publication:
Color: Black & White
Size:
6 x 9.5 inches
15.2 x 24.1 cm
In 1825 Haden Edwards received permission from the Mexican government to settle 800 families in East Texas. Edwards, a land speculator from Virginia, was known for his dishonest dealings with the settlers. After receiving many complaints the Mexican government revoked Edwards' grant in December 1826. Edwards and his brother, Benjamin, joined with local Indians (who felt Mexico had failed to deliver promised land) and settlers desiring to challenge Mexico's authority. They marched on the local capital of Nacogdoches on December 16, encouraged local residents to join them, and declared their independence from Mexico as the Republic of Fredonia. In January, fighting erupted when settlers loyal to Mexico retaliated, further escalating with Mexican troops joined in fray. The Fredonians fled to Louisiana, and by the end of March 1827 the rebellion had been suppressed. The Republic of Fredonia, never recognized by any official entity, had lasted barely three months. The Mexican government then divided Edwards' grant and awarded it to other immigrants. The Fredonia Rebellion was the third attempt at independence from Mexico. Texas Colonization became so popular with the Anglos that in 1830 Mexico reversed its position and barred further immigration. This action led the way to the "Battle of Nacogdoches," the opening skirmish in the Texas Revolution, which took place in August of 1832.
The first magazine (No. 2) includes the three-page article Downfall of the Fredonian Republic as reported by a person in Texas. This rebellion was one of three conflicts leading to the independence of Texas. We researched this conflict last year and found very little information available; this article contains a contemporary account that will be of interest to any collector of Texas material. It even mentions at the beginning the fact that if the Western Quarterly Review didn't record the 1827 conflict, it would be forgotten by history. The Fredonia Rebellion was begun by 15 people; they drew up a Constitution, designed seals for the country, and also laid claim to some additional land. Austin opposed the rebellion, and backed the Mexican military when they went to disperse the uprising. Some of the people mentioned: Mr. Edwards, his sister who is married to Mr. Chaplin, Col. Ligon and his 15 men; a band of Cherokees, John Dunn Hunter; Col. Austin, and Gen. Hull. All written in the style of the day. An early and certainly uncommon account of the Fredonia Uprising. Other articles include "Burial of the Young Apaclachy Warrior - extract from a letter" and more. The pair of issues.
References:
Condition: B
################