"[Lot of 2] The Mapping of America [and] Atlas of Columbus and the Great Discoveries",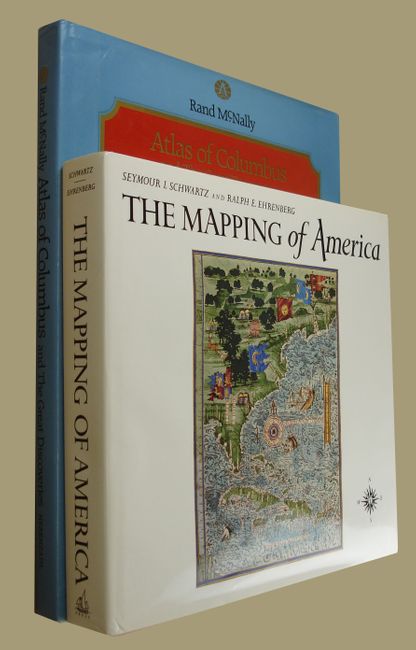 Subject: Reference Books
Period: 1980-2001 (published)
Publication:
Color:
Size:
See Description
1) The Mapping of America, Seymour I. Schwartz and Ralph E. Ehrenberg, Wellfleet Press, 2001. This essential reference presents a detailed, analytic history of the mapping of North America, emphasizing the area that comprises the United States. Two major periods are covered; the first extends from 1500 to 1800, and the second from 1800 to the present. 363 pp., index, 223 maps, 84 reproduced in full-color, 354 illustrations altogether. Reprint of the 1980 edition. 11 x 11.5". Hardbound in green cloth with illustrated dust jacket. An often quoted reference work. Grade A+. As new.

2) Atlas of Columbus and The Great Discoveries, by Kenneth Nebenzahl, illustrates a selection of the most significant materials of the period, beginning with the world as known to Europeans before Columbus' first voyage. More than 100 color illustrations depict maps by Ptolemy, Pizzagano, Martellus, Waldseemuller, Mercator, Hondius and others. 168 pp., with index & bibliography. (11.3 x 14.8") Rand McNally, 1980. Hardbound in blue cloth with title in gilt and illustrated dust jacket. Grade A. Dustjacket with some minor wear to the edges.
References:
Condition:
See individual descriptions.