"[Lot of 2] The Mapping of America [and] The New World The First Pictures of America",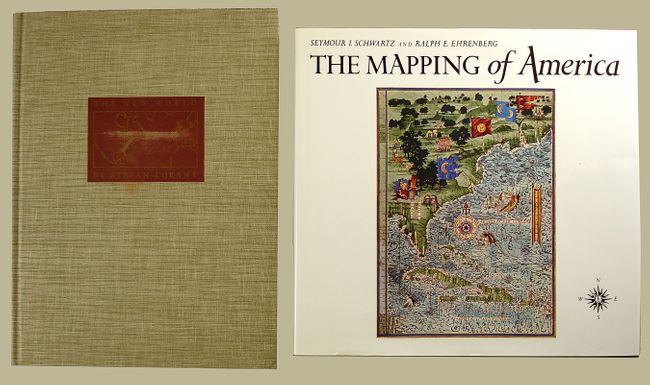 Subject: Reference Books
Period: 1946-2001 (published)
Publication:
Color:
Size:
See Description
1) The Mapping of America, Seymour I. Schwartz and Ralph E. Ehrenberg, Wellfleet Press, 2001. This essential reference presents a detailed, analytic history of the mapping of North America, emphasizing the area that comprises the United States. Two major periods are covered; the first extends from 1500 to 1800, and the second from 1800 to the present. 363 pp., index, 223 maps, 84 reproduced in full-color, 354 illustrations altogether. Reprint of the 1980 edition. 11 x 11.5". Hardbound in green cloth with illustrated dust jacket. An often quoted reference work. Grade A+. As new.

2) The New World by Stefan Lorant is a history of the first French and English settlements on eastern North American seaboards from eyewitness accounts including those of John White and Le Moyne. Heavily illustrated in b/w and color with the water colors of John White (1585), de Bry's engravings of the Virginia and Florida settlements, and excerpts from Thomas Hariot's "New Found Land of Virginia" (1588). 292 pp., index, bibliography. First edition, Duell, Sloan & Pearce, NY, 1946 (9.5 x 12.5"). Hardbound in beige linen with gilt map on front cover.
References:
Condition:
See individual descriptions.