"Map of the Southern States of America, Comprehending Maryland, Virginia, Kentucky, Territory Sth. of the Ohio, North Carolina, Tennessee Governmt., South Carolina, & Georgia", Russell, John C.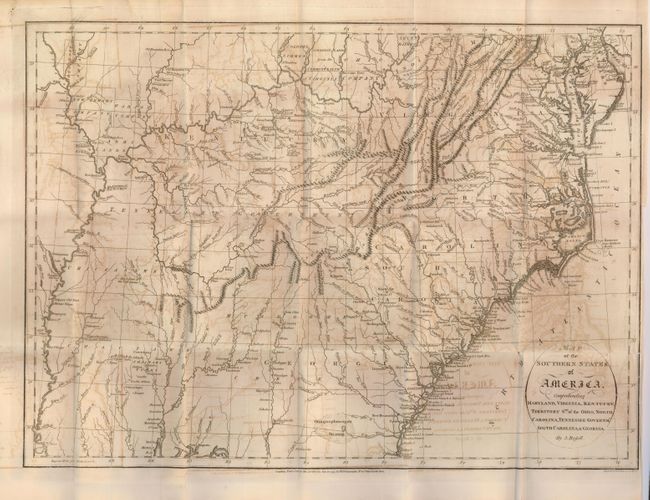 Subject: Southern United States
Period: 1795 (dated)
Publication: Historical, Geographical ...View of the United States
Color: Black & White
Size:
20 x 14.5 inches
50.8 x 36.8 cm
By the time of the Revolutionary War, the practice of awarding bounty land as an inducement for enlisting in the military had been a long-standing practice in colonial North America. Besides imperial bounty land grants, both colonial and municipal governments routinely compensated participants in and victims of military conflicts with land. Land was a commodity in generous supply, and governments seized upon its availability for accomplishing their goals.

Following this tradition, the Revolutionary governments used bounty land grants in their struggle for independence from Great Britain. They generally offered free lands in exchange for military service, provided they were victorious in their struggle. Thus, bounty lands were an effective technique for enrolling support for the war and encouraging re-enlistments. Generally the bounty lands were located on the western frontier, which provided another benefit to the government. Populating the frontier with citizens skilled in defense offered the best prospect in enticing other settlers to join them, thus eventually increasing the tax rolls.
Very interesting map of the early, post-colonial southern states in which Georgia extends to the Mississippi River, sharing land with the Choctaw and Creek tribes. The short-lived reservation that was set aside for the Catawba tribe of Native Americans is shown in a small block on the border between North and South Carolina. This fifteen square mile parcel was set aside for their tribe in 1760. However, nothing was done by the government to remove the ever-increasing white settlers who encroached on the Catawba's land. The tribe sold this land back to the government in 1840. Tennessee is named Tennessee Government. There are several Bounty Land Grants including Colonel Simmes, Donation Lands from the Commonwealth of Virginia, and Ohio Company in Ohio, and Wabash Company, New Jersey Company, and Illinois Company in Illinois. A section of northwestern Virginia is named Indiana. This region was originally granted to a Philadelphia trading company by the Iroquois Confederacy in 1768. Then in 1776 it was sold to the Indiana Land Company, but was also claimed by the State of Virginia as a part of her original charter. The resulting battle between the private land company and Virginia resulted in the Eleventh Amendment to the U.S. Constitution and is one of the most interesting chapters in the history of the young United States.
References:
Condition: B
A sturdy sheet with folds as issued. The map has some offsetting, and a few intersectional fold splits, repaired on the verso with archival tape. The binding trim leaves 1/8" margins for framing and a binding tear into the border has been repaired with archival tape.