"[Lot of 3] A Book of Old Maps [with] Blaeu's The Grand Atlas of the 17th Century World [and] Landmarks of Mapmaking",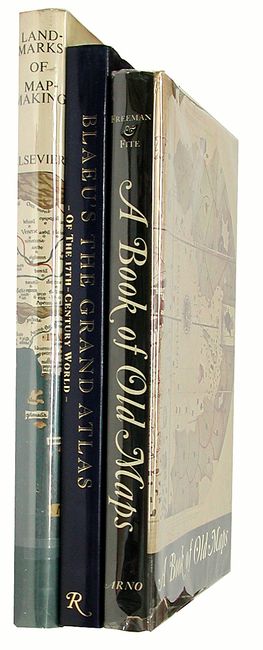 Subject: Reference Books
Period: 1968-91
Publication:
Color:
Size:
See Description
1) A Book of Old Maps Delineating American History From the Earliest Days Down to the Close of the Revolutionary War compiled and edited by Emerson D. Fite & Archibald Freeman, Dover Publications 1969. Reprint of the Harvard University Press edition of 1927. An excellent study of American cartographic developments in 75 selected maps made between 1474 and 1825. These maps provide a unique view of an important stage in the growth of America. Each map has an accompanying essay describing its background and historical importance. Illustrated in b/w, 299 pp. Folio (11 x 14.7"), hardbound in brown cloth cover with dust jacket and plastic cover. Covers and contents near mint. Dust jacket with some loss at lower extremity.

2) Blaeu's The Grand Atlas of the 17th Century World, published in cooperation with the Royal Geographical Society, 1991. The book, with 100 beautifully reproduced colored maps, is a continuation of the effort by the RGS to reproduce important cartographic items for wide public access. Each map is accompanied by an extensive caption written by Goss. A treasure trove of information and illustrations. 224 pp. Folio (11"x15"), hardbound in blue buckram with gilt spine and illustrated dust jacket. Near new condition with minor wear to dust jacket.

3) Landmarks of Mapmaking, by Charles Bicker is a standard reference and a beautifully produced and illustrated work covering the development of cartography, the exploration and mapping of Europe, Asia, Africa, the Americas and Australia. Preface by Gerald Roe Crone with maps chosen by R. V. Tooley. 276 pp., over 350 illustrations, including maps, portraits, title pages and reproductions from early sources, 14 color folding maps, other color illustrations, bibliography, and index. First edition, published by Elsevier, 1968. Folio (11 x 16"), hardbound in linen cloth, gilt lettering, gilt and white compass rose on front cover, pictorial end-papers and dust jacket with plastic cover. Very good condition with some light soiling to fore edges, and jacket.
References:
Condition: A