"[Lot of 4 - Exhibition Catalogs]",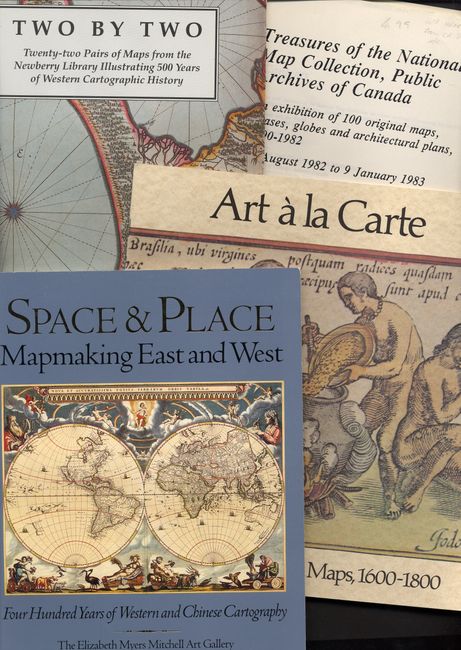 Subject: Reference Books
Period: 1983-96 (dated)
Publication:
Color:
Size:
See Description
1) "Art a la Carte Decorative Imagery in Maps, 1600-1800" The University of Michigan Museum of Art [1979]. Provides a great discussion of allegorical images used in cartography (10 x 11") B&W.

2) "Space & Place - Mapmaking East and West - Four Hundred Years of Western and Chinese Cartography" by Cordell D. K. Yee, St. John's College, Annapolis, Maryland [1996]. 56 illustrations contrast Chinese and Western mapmaking (8.5 x 11") color and B&W plates.

3) "Two by Two - Twenty-two Pairs of Maps from the Newberry Library Illustrating 500 years of Western Cartographic History" The Newberry Library, Chicago [1993]. 44 maps catalogued in pairs to compare and contrast a variety of styles and concepts (8.5 x 11") B&W with colored cover. These three catalogues are soft cover, with only slight wear.

4) "Treasures of the National Map Collection, Public Archives of Canada An Exhibition of 100 original maps, atlases, globes and architectural plans, 1490-1982. 17 August 1982 to 9 January 1983." Unbound pages covering 90 of the items on display (8.5x11") B&W.
References:
Condition: A
First three very good to fine. Last torn around staple.