"[Lot of 10 Exhibition Catalogs and Papers]",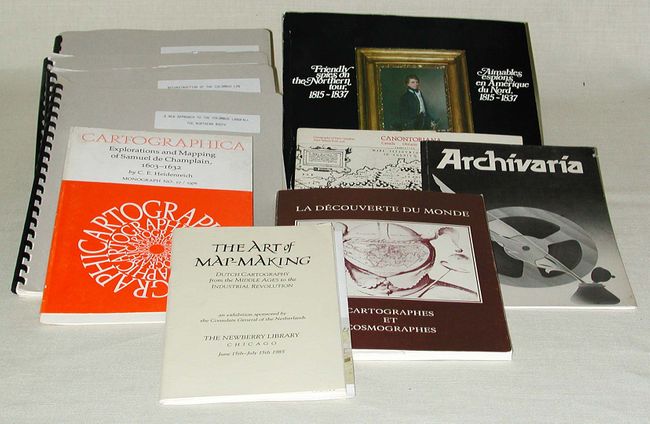 Subject: Reference Books
Period: 1975-85 (published)
Publication:
Color:
Size:
See Description
An interesting lot of exhibition catalogs and papers covering early exploration and mapping. 1) Canontoriana - Cartography of Early Canadian Place Names from 1508, Royal Ontario Museum, 1975. 2) Cartographica - Explorations and Mapping of Samuel de Champlain, 1603-1632, C.E. Hiedenreich, Monograph #17, 1976. 3) La Decouverte du Monde - Cartographes et Cosmographes, Le Musee de Saint-Malo, 1984 (text in French and English). 4) The Art of Map-Making - Dutch Cartography from the Middle Ages to the Industrial Revolution, The Newberry Library, 1985. 5) Archivaria - Seventeenth-Century Maps of the Great Lakes: An Overview and Procedures for Analysis, C.E. Heidenreich, 1978 (signed by author). 6) Friendly spies on the Northern tour, 1815-1837 - The sketches of Henry Byam Martin, Jim Burant, Public Archives of Canada, 1981 (signed by Burant). 7) A New Approach to the Columbus Landfall, A.B. Molander, 1985. 8) Reconstruction of the Columbus Log, D.T. Peck, 1987. 9) The Map of the Bahamas Implied by Chaves's Derrotero - What is its Relevance to the First Landfall Question?, J.E. Kelley, Jr., 1988 10) Terrae Recognitae - A Reconstruction of the Verdadera Route of Columbus, C.C. Larimore, 1988.
References:
Condition: B
Some minor shelf wear.